Jim's Otisco Concrete Eagle Statue in Brassy Bronze Finish for Outdoors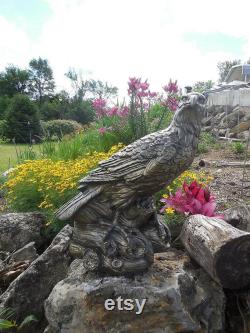 Jim's otisco concrete eagle statue in a two toned brassy bronze paint finish. Created to withstand outdoor weather conditions.
May also be displayed inside. Great for homes, yards, businesses, schools and wherever eagle statues would look great at. Each statue individually crafted in kellogg, minnesota. Not all concrete statues are made of high quality, long lasting ingredients. Ours are at svj creative designs.
Dimensions: 21"h x 10"w x 19d. This item is made of cement and water based paint, water based concrete sealer, fiberglass reinforcement, sand, rock, hand painted, hand made.