Laminar Flow Hood HEPA Filter 600mm x 600mm (24 x 24 )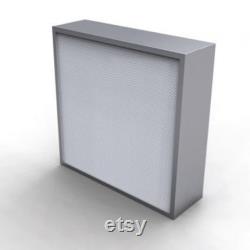 A hepa filter unit for making a laminar flow cabinet - 99.99% effective. Terminal filtration for cleanroom applications used in mushroom labs and work areas to ensure clean air flow. Individual leak test on 0,3 m at 0,45 m/s according to din 24.184 standard (from h13).
Mpps individual efficiency test on 0,12 m at 0,45 m/s (scanning test) according to en1822 standard. Individual scanning test cert delivered with the filter. Tested for food contact according to ce 1935/2004. Media: mini pleat micro fiberglass paper.
Gasket: half-round monobloc polyurethane grids: painted epoxy (upstream and dowstream). Final pressure drop: 600 pa. Maximum t in continuous service: 80c. This is just the hepa filter unit itself. You need to install a separate blower fan and build an air chamber around the unit.