Mars Hydro 12 Pods Hydroponics Growing System with 6L Water Tank Dimmable LED Grow Light for Seeding and Clone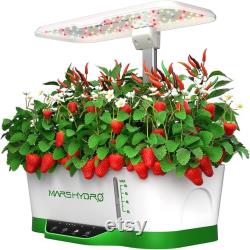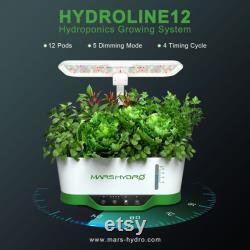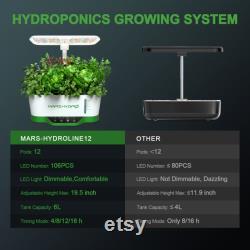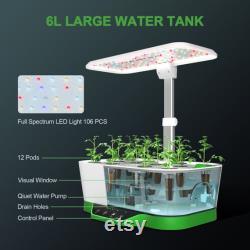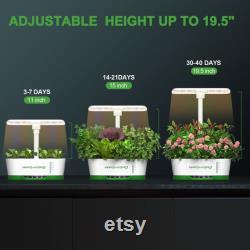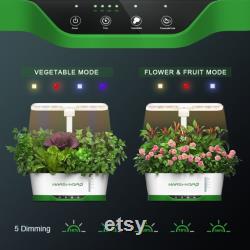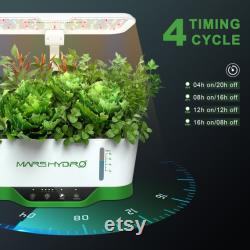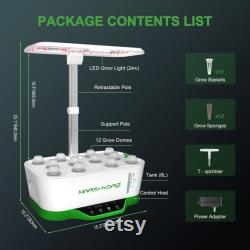 Model: brand new mars hydro cloner and seed start kit. 6l oversize water tank: compared with other small herb garden kit, this hydroponics grow system is equipped with 12 pods and 6l large water tank. It can support more plants and hold more water, you only need to add 1 to 2 times water for a complete grow cycle. The others are only 3l or 4.5l. A visual window can see how much water in tank. 2 plants modes with 5 dimming sets: ths hydroline12 indoor garden kit is designed with 2 plants modes, vegetable mode and fruits mode to meet different needs of grow stages. What's more, in each mode you have 5 dimmable options - 10%/25%/50%/75%/100%, you can set up light intensity acocrding to different stages. 106 pcs led lights are more powerful, others are only 80 pcs or less. 4 timing cycles: this indoor garden germination kit comes with 4 timing cycles: 4h on/20h off, 8h on/16h off, 12h on/12h off, 16h on/8h off.
The timing cycles can be set freely according to the actual needs of the indoor plants. Mars hydro hydroponics growing system will save more cost and improve efficiency. The others are only 8h/16h timing. Adjustable auto-pump: the herb garden kit is designed with a 30 mins on/30 mins off automatic water circulation system.
The pump mixes water and food well and creates enough oxygen. This hydroponics growing system is very quiet and low noise. The slider at the bottom of the water pump can freely adjust the water volume. Adjustable height up to 19.5": hydroponics growing system with led grow lights can adjusted according to the plant growth stage, up to 19.5".
A light post that is taller than others allows plants to grow taller and bigger. Mars hydro line 12 is the plant gifts for any family and friends and can be used anywhere. Number of leds:106 pcs. Type:cloner and seed start kit hydroponic growing system.
Spectrum:650-660nm, 460-465nm, 2800-3200k, 4800-5000k. Timing mode:4h 8h 12h 16h. Net weight:2.45 kg. 1 x mars hydro-hydroline12 led grow light. 1 x free power cord with plug(us standard plug).
Fast discreet package guaranteed, protect your privacy. Certificate of plug:100% safe to use(ul, bs, dve, saa, pse, approvel).