Mars Hydro 6 Inch Inline Ducting Fan And Carbon Filter Combo With Thermostat Controller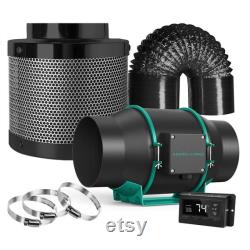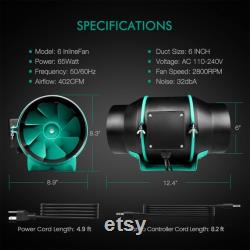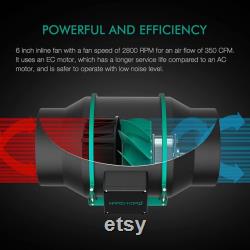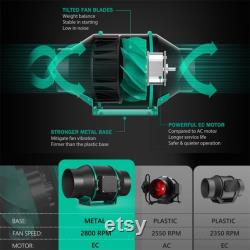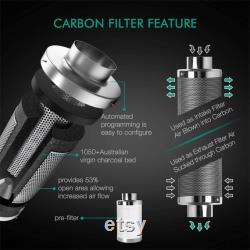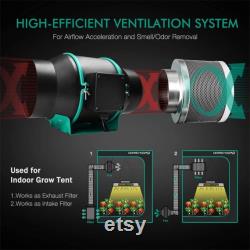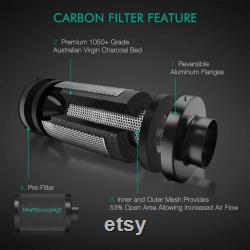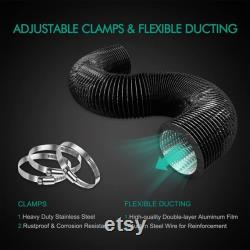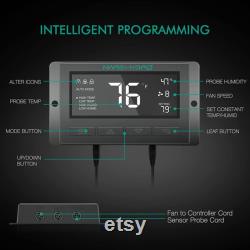 Model: mars hydro 6 inch inline duct fan and carbon filter combo with thermostat controller. Controller type: digital thermostat controller. Refreshing your grow room: featuring a 6 inch duct fan rated for 402cfm and a carbon filter with virgin australian activated charcoal, including a digital thermostat controller and 25ft long flexible ducting, mars hydro inline duct fan and filter combo offers you everything you need to manage the temperature, the air circulation and the odors in your grow space. Ventilation kits include: 6" inline duct fan 6" carbon filter thermostat controller 25-ft flexible duct tube 3 duct clamps 2 hanging straps. Smart, potent, silent inline duct fan: utilizing a pwm-controlled ec motor and mix-flow design, the mars hydro 6'' inline duct fan provides a powerful 402cfm airflow while running quietly. Controlled by a digital touch-screen thermostat controller with a sensor probe, this 6 inch inline fan features "environment monitor", "timing schedule", "temperature/humidity alarm", and "high/low temperature or humidity triggers" functions.
It also provides other essential features --- 10-speed adjustment to meet your ventilating requirements, controller lockout to prevent accidental triggering, calibration mode to modify the detected ambient data, screen brightness modification to protect your eyes in whether bright or dark rooms. Every feature is designed to make your indoor growing easy and happy, and to maintain a stable and consistent indoor grow environment.
Eliminate odors and fresh the air: the filter's internal core is made of 1050+ activated charcoal imported from australia to bring 100%-fresh air and eliminate unwanted odors, pungent smells, and particulates out of growing tents and rooms. The double-sided galvanized steel mesh provides 53% of the open area for airflow to pass through so that the odor absorption and elimination process can be carried out thoroughly.
The carbon filter was covered by a prefilter cloth; do not remove it when using. Durable flexible ducting & connecting accessories: this ventilation kit is paired with a 25-ft-long pvc thermoplastic flexible duct tube to direct the air in and out properly, durable and easy to use. With 2 adjustable hanging straps and 3 duct clamps to easily connect the inline fan, carbon filter, and ducting tube, the whole ventilation kit gets all the necessary parts to ventilate and filtrate indoor grow tents and grow rooms. Your smart ventilation system: the mars hydro 6 inch inline fan and carbon filter combo ventilation kit can ventilate and filtrate a 3x3 grow tent, a 4x4 grow tent, or a 5x5 grow tent. With a smart thermostat controller, this 6 inch ventilation kit will be the best grow tent air filtration and environment control system for your indoor cultivation. Discreet package guaranteed, protect your privacy. Certificate of plug:100% safe to use(ul, bs, dve, saa, pse, approvel). This item is made of inline fan.