Mars Hydro FC3000 Samsung LED Grow Light 3x3ft UV IR with MeanWell Driver Full Spectrum Growing Light Daisy Chain Dimmable For Indoor Plants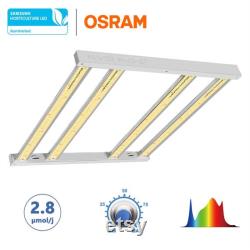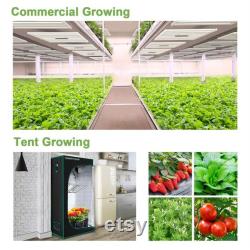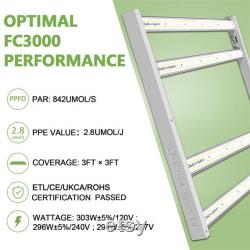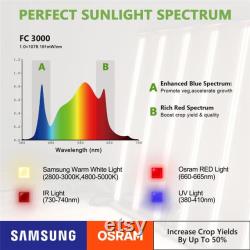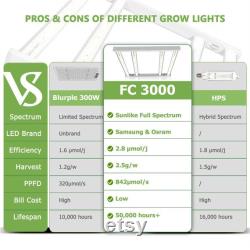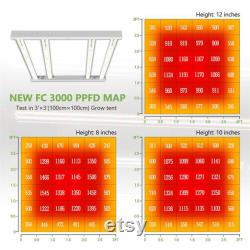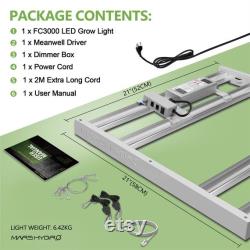 Model: brand new mars hydro fc 3000 led grow light. Maximize yields & crop quality: fc3000 grow light with -samsung led& osram 660nm diodes and meanwell driver, boast the market-leading efficiency 2.8 mol/j, max 2.5g yield per wattage with 30% higher average ppfd, get 50% greater yield & quality compared with the old lights only consumes 300watt, 3x3ft for commercial grow, 2x2ft for personal grow. Flexible dimmable grow light: easy dimming & daisy chain max up to 15 lights, master light easily controlled for commercial & home horticulture. Wide 4-bar form factor offers even & broad canopy coverage, maximize grow space, easy to install, ip65 waterproof, ideal for high ppfd cultivation with single or multi-tier racking. Amazing heat dissipation: cost-effective fc3000 growing lamp with 4 passive-cooled bars, aluminum heat-sink, no-fan no noise design, and highest quality removable meanwell driver equal unmatched performance in heat dispersing & lifespan, save 50% energy than other old grow lights.
Upgraded uv ir full spectrum grow light: yield max spectrum with enhanced red (2800k-5000knm samsung, 660nm osram deep red, uv ir), speed up blooming & fruiting, perfect for density buds. Fc3000 indoor grow light widely suit for commercial, home, grow tent, grow room, hydroponic, soil full-cycle growing. Best bang for your buck: market-leading 2.8mol/j ppf combined with yield max spectrum equals optimum performance, switch from hps to fc3000 to increase your yields & profits 50% without adding any additional energy costs. Model: mars hydro mars fc 3000 led grow light (dimmable). Number of leds: 896 pcs. Feature: sunlike spectrum+samsung led and osramled 660nm+0db+dimmable. Core coverage:3ft 3ft0.9m 0.9m;max coverage: 4ft 4ft 1.2m 1.2m. Core par value: 824 mol/s. Replace hid/mh: 400w, more energy-saving. Item net weight: 4.37kg. Spectrum: 380-410nm, 660-665nm, 730-740nm, 2800-3000k, 4800-5000k, uv, ir 730nm use for all stages of plants growth and flowering. Led typesamsung led and osramled 660nm. Recommend light and tent combo: fc 3000 led+4'x4'tent. 1 x mars hydro fc 3000 led grow light.
1 x yoyo rope ratchet. 1 x free power cord with plug(us, eu, uk, au, canada japan plug).
Fast discreet package guaranteed, protect your privacy. Certificate of plug:100% safe to use(ul, bs, dve, saa, pse, approvel). Recommended hanging distance above plants. Seeding: 24" germination: 24"-30. Veg: 18"-24" bloom: 12"-18".
Veg: 18/6 (on/off) or 20/4 (on/off). This item is made of aluminum and samsung led diodes, osram chips, meanwell driver, metal.