Mars Hydro FC4800 Samsung LM301B 480Watt LED Grow Light for Indoor Plants UV IR Full Spectrum Daisy Chain Dimmable Light for 4X4ft Grow Tent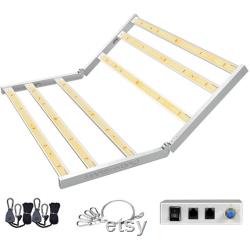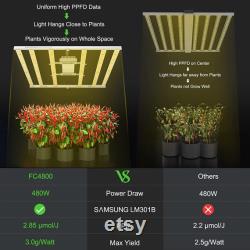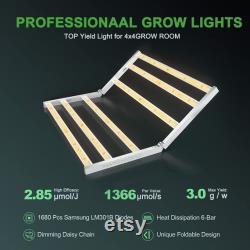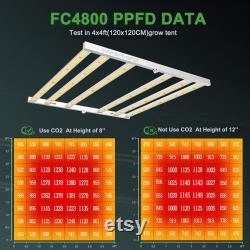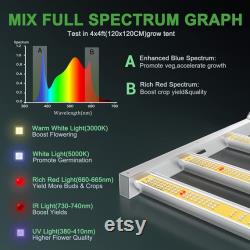 Model: brand new mars hydro fc 4800 led grow light. Maximize yields & crop quality - mars hydro fc4800 led grow light with 1680 pcs samsung lm301b & osram 660nm diodes, boast the incredible efficiency 2.85 mol/j max 3g yield per wattage with 30% higher average ppfd, achieve 50% higher yield & quality compared with the old lights only consumes 480w perfect light for 3x3ft of high-yielding full-cycle growth. Flexible dimming daisy chain - prefect as commercial led grow lights, fc4800 dimmable grow lamp with daisy chain, allows you to connect up to 30 mars grow light to your commercial grow, horizontal and vertical farming, greenhouse planting, pipeline cultivation, hydroponics.
Perfect for the mars hydro 4x4grow tent growing the whole cycle. Full spectrum grow light - high-intensity spectrum with enhanced red(3200-4200k, 4800-5000k, 650-665nm) is perfect for veg to bloom, to adapt to each phase of the plant cycle. The dimming knob is ideal for growers to adjust the light intensity based on different growing stages.
Free installation - open and use, 6 passive-cooled bars, aluminum heat-sink, fanless zero noise design, offers even & broad canopy coverage, maximizes grow space, flexible 180 degree design, ideal for home & vertical farming commercial growth. Model: mars hydro fc 4800 led grow light. Led type:samsung lm301b and osram 660nm.
Spectrum: 380-410nm, 660-665nm, 730-740nm, 2800-3000k, 4800-5000k. Commercial coverage: 3ft 3ft100cm 100cm. Personal coverage: 4ft 4ft120cm 120cm. Product size: 830 x 820 x 101 mm.
Recommend combo:fc 4800 led+120x120x200cm tent. 1 x mars hydro fc 4800 led grow light.
1 x yoyo rope ratchet. 1 x free power cord with plug(us standard plug). Fast discreet package guaranteed, protect your privacy. Certificate of plug:100% safe to use(ul, bs, dve, saa, pse, approvel). This item is made of aluminum and samsung led diodes, samsung lm301b, osram 660nm chips, metal.