Mars Hydro FC8000 800W Plant Light for Indoor Plants Samsung LM301B LED Grow Light Full Spectrum Commercial Grow Farming Light Detachable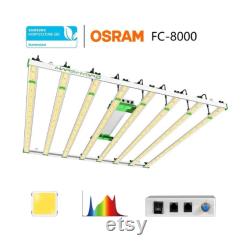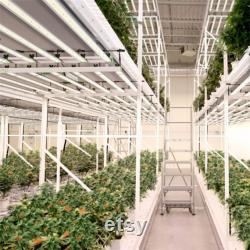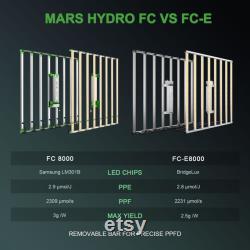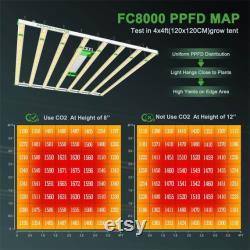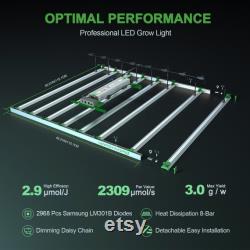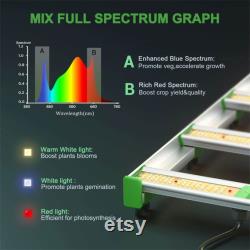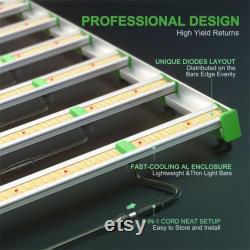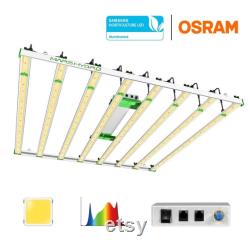 Model: mars hydro fc 8000 led grow light. Born for commercial cultivation with supplemental co2 applications, fc8000 led grow light supplies uniform ppfd averaging 1500mol/m/s, sufficient to activate 100% photosynthesis and obtain maximum yield at different co2 concentrations.
Samsung lm301b powered stronger penetration, more consistent output for comprehensive lighting care. Personal cultivation coverage - 5x5 ft. Commercial cultivation coverage - 4x4 ft. Commercial cultivator's preferred light solution for single or multi-tier racking vertical farms and various indoor plant grow scenarios. Top-notch led diodes fc8000 mounts 2968 pcs samsung lm301b diodes.
Make use of more than twice as many leds as comparable lights to drive the grow lights with a low current to stay away from overdrive. Quality guaranteed and high efficiency up to 2.9 mol/j. Professional spectra for plant production enhanced blue and red light as a specific spectral combination, boosting plant growth while improving the year-round yield and product quality.
Consistent par distribution and uniform ppfd output multi-light bar style and dense layout of light diodes enable fc8000 led grow light to have ppfd values in the range of 1000-1500 mol/m/s throughout the effective coverage area, the optimal range for cultivation with added co2. Daisy-chain dimming function the dimming function is available for 0-100% variable brightness, adapts to different plant growth stages.
Max 30 lights can be daisy-chained together and be controlled by one master light. Commercial led grow light wave-shaped heat sink increases the heat dissipation area to achieve superior cooling.
Detachable design, easier for installation and store. Model: mars hydro fc 8000 led grow light.
Feature:samsung lm301b+osram 660 chips+0db+dimmable. Led type: samsung lm301b and osram 660nm. Personal coverage: 5ft 5ft1.5m 1.5m. Recommend tent: 150x150x200cm(5'x5') tent. Recommend ventilation kits: 6'' inline fan carbon filter combo.
1 x mars hydro fc 8000 led grow light. 1 x yoyo rope ratchet.
1 x free power cord with plug(us standard plug). Discreet package guaranteed, protect your privacy.
Certificate of plug:100% safe to use(ul, bs, dve, saa, pse, approvel). This item is made of samsung lm301b chips and osram 660nm chips.