Mars Hydro FC 6500 Plant Light Samsung LM301B LED Grow Light Full Spectrum for Indoor Plants Veg Flower Commercial Growing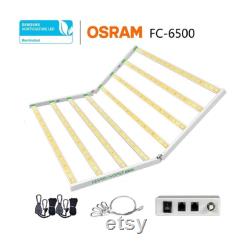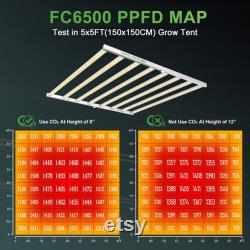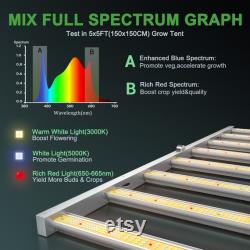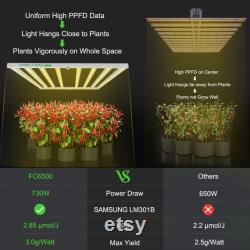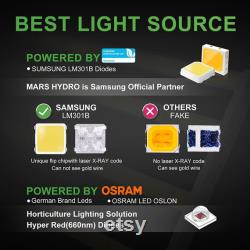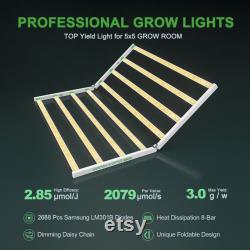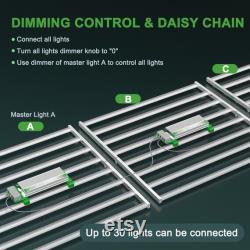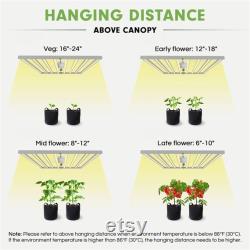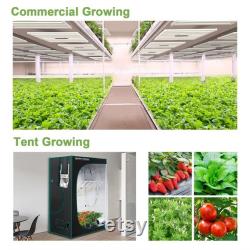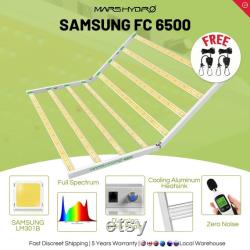 Model: mars hydro fc 6500 led grow light. Applied as large multi-strip led grow lights for large-scale commercial cultivation and high-quality home cultivation. Fc6500 employs samsung lm301b chips and a full spectrum light that is rich in red and blue and adopts a uniform photon distribution to maintain an even ppid and optimal ppf across the canopy. Personal cultivation coverage - 5x5 ft.
Commercial cultivation coverage - 4x4 ft. Commercial cultivator's preferred light solution for single or multi-tier racking vertical farms and various indoor plant grow scenarios. Top-quality led chipsthe entire light is built with 2688 pcs samsung lm301b chips. Use more than twice as many leds as similar lights to drive the grow lights with low current and avoid overdrive. Quality guaranteed and high efficiency up to 2.85 mol/j.
Uniform par distribution and high ppfd outputmulti-light bar design and dense distribution of light chips. Enables the led grow lights to have ppfd values in the range of 1000-1500 mol/m/s throughout the effective coverage area. Professionally designed spectrathe blue and red light are enhanced on the basis of a specific spectral combination, accelerating plant growth while improving the yield and quality of the plants. Daisy-chain dimming functiondimming function is available for brightness from 10% to 100%, allowing for different stages of plant growth and saving electricity. Up to 30 lights can be daisy-chained together and be controlled by one mater light. Commercial led grow lightwave-shaped heat sink increases the heat dissipation area to provide good heat management for commercial growing.
Dlc certification and 5 years warrantydlc-certified led grow light with the highest industry standards for quality and efficiency. Model: mars hydro fc 6500 led grow light. Feature:samsung lm301b+osram 660 chips+0db+dimmable. Led type: samsung lm301b and osram 660nm.
Commercial coverage: 4ft 4ft120cm 120cm. Personal coverage: 5ft 5ft150cm 150cm. Product size: 1130 x 1120 x 106mm. Recommend combo:fc 6500 led+150x150x200cm tent.
Recommend ventilation kits: 6'' inline fan carbon filter combo. 1 x mars hydro fc 6500 led grow light. 1 x yoyo rope ratchet.
1 x free power cord with plug(us standard plug). Discreet package guaranteed, protect your privacy. Certificate of plug:100% safe to use(ul, bs, dve, saa, pse, approvel). This item is made of samsung lm301b and osram 660nm chips.