Mars Hydro SP150 LED Grow Lights 2x2 ft Coverage Full Spectrum for Indoor Plants VEG and Flower with 322 SMD LEDs No Noise Replace hps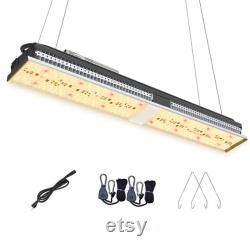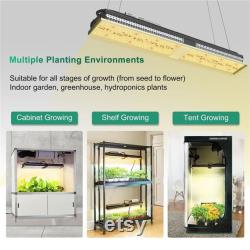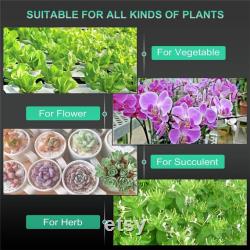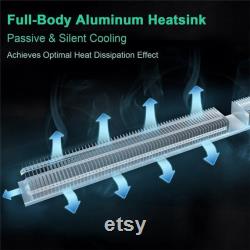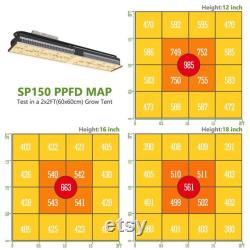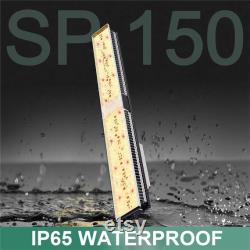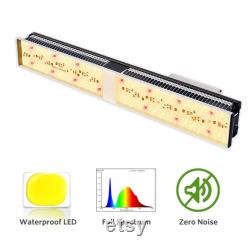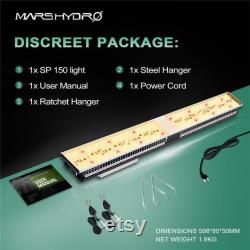 Model: brand new sp150 led grow light with one pair of rope ratchet. Energy saving grow light: pay less bills, sp150 consuming only 135w with 322 leds it saves up to 70% energy than other led plant lights. One perfect for 2x2 ft grow tent and four for 4x4 ft grow box. Boom yield grow light for plants: newest smd leds technology can get max yield at 2.5g/watt (power draw), 2.8mol/j increase your yield 50% compare with other 1000w old led grow lights, uniform par value at average 561umol/m/s at 18'' height. Efficient heat sink & noise-free fanless design grow light: all casings are heating sink which makes heat dissipates off the lamp. Designed for home growers, fans get noisy when long time use, bring you a fanless quiet grow experience. Flexible hanging ways led grow lights: you can face it up down left right any direction you would like to, not only available to hang it vertically to increase penetration, but also available to hang it horizontally as a side light for your veg and flower. Water proof led grow lamps: waterproof led board for the mars sp150 growing lamp, make it can work within high humidity greenhouse growing environment, 50% longer lifespan compare with other brand lights. Model: mars hydro sp 150 led grow light (undimmable). Feature: sunlike spectrum+smd tech+ip 65 waterproof+0 db. Replaces a 250 watt hps/mh more energy-saving. Dimensions(l/w/h): 23.5x 3.2 x 2 inches59.8x8x5.0 cm. Item net weight: 1.9 kg. Professional full spectrum(12 band):use for all stages of plants growth and flowering. Recommend core coverage:1.5ft 2.5ft 0.5m 0.76m. Recommend max coverage:2ft 3ft 0.6m 0.9m. Ppfd:561 umol/ms at 18 inch. Max yield:2.5g / w. 1 x mars hydro sp150 led grow light. 1 x yoyo rope ratchet. Fast discreet package guaranteed, protect your privacy. Certificate of plug:100% safe to use(ul, bs, dve, saa, pse, approvel).
Recommended hanging distance above plants. Seeding: 24" germination: 24"-30. Veg: 18"-24" bloom: 12"-18". Veg: 18/6 (on/off) or 20/4 (on/off).
This item is made of aluminum plate and led diodes, smd chips, metal.