Mars Hydro TS 1000W Full Spectrum Led Grow Lights Dimmable Switch Sunlike for Hydroponic Indoor Outdoor Plants Veg Flower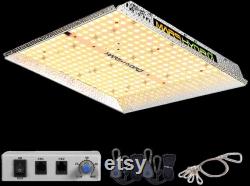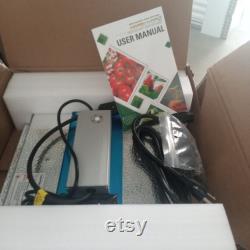 Mars hydro ts-1000 white led light, with the most advanced equipment and technology, provides tremendous light output to give you one of the brightest, the highest yield, full sun like spectrum lights. The ts-1000 is designed to be cost effective and energy efficient so you can maximize your harvest the ts-1000 led grow light can accommodate up to a 2' x 2' area for flower and 3' x 3' for vegetative growth. Increase yield & crop quality in led grow: best sunlike full spectrum with ir, newest smd led technology provides the highest par/lumen output, achieves maximum quality and quantity, makes you get 30% higher yield than old led/hps, get up to 2.5g/watt yield.
Reflective aluminum hood: high reflective aluminum hood, quickly heat disperses, reducing light lost to aisles and walls and increasing the light intensity up to 20%. High-efficiency energy saving plant light: low energy consumption, save 50% overall vs hps. No need for extra parts compares to hps. Perfect for all stages plants, together with low heat and high output in the grow tent. Ppe: 2.7umol/j, 2.7umol/s/w.
Suit for large rooms and commercial setups: easy dimming & daisy chain function, up to 30 multi-lights connected, convenient main light controlled; auto-sensing power supply works on both 120vac and 240vac and 277vac. Detachable driver with extension power cord: which can be mounted remotely on the side of a rack or on an adjacent wall to remove heat from your grow space. 0 db: 100% quiet growth environment, large areas of the solid aluminum heat sink, remove the driver to mount outside the tent to help with better heat management. Marvelous customer care: light pass strict quality standard.
Etl, ul, ce, rohs, saa, pse, ukca certificates. Stronger hanging kits are available for easy installation.