Mars Hydro TS 3000 Plant Light Full Spectrum LED Grow Light For Indoor Plants Hydroponic Veg Flower Growing Lamp for 5x5ft Grow Tent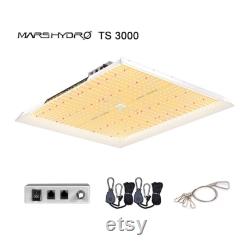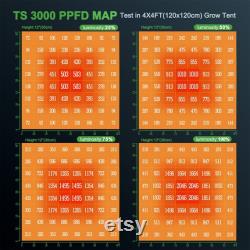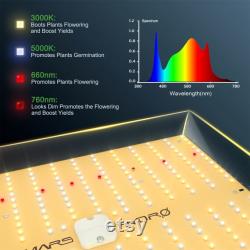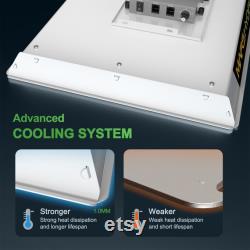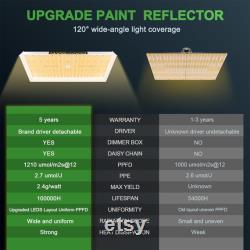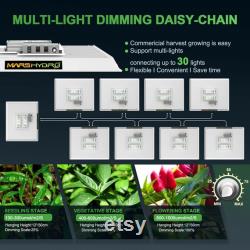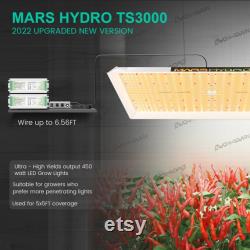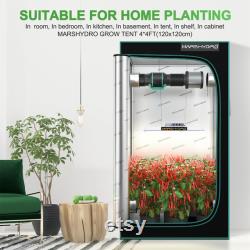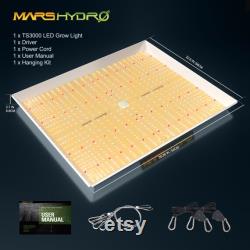 Model:mars hydro ts 3000 led grow light. Ts3000, as the biggest led grow light in ts series, offers enough coverage for 4x4 ft area with affordable price and quality yields, in return it's able to be applied to both home cultivation and commercial veg cultivation.
Veg coverage - 5x5 ft. Flower coverage - 4x4 ft. The overwhelming choice for most growers applying in grow tent, small room, cabinet & closet, and plant shelves, and budget option for commercial vegetative cultivation.
Low energy consumption led grow light consuming 450w and also placed with 1016 pcs chips, ts3000 is able to replace a 600w hps light while saving 25% electricity. High performance led grow light with overall light output of ppf 1151umol/s and leading ppe 2.7 umol/j, it's 50% even more photon efficient as well as can promise a 30% more yield compared to the old hps/mh lights. Patented reflective hood design the reflector style on ts3000 has been patented, which can successfully gather the light spread in all directions to enhance its light intensity and also aid plants absorb more light. Full spectrum advanced spectra by the special combination of spectra that emits most light in the 400-700nm waveband, is extremely good for plant photosynthesis. Sufficient ir(730-740nm) is in the spectrum to induce bigger buds.
Dimming and daisy chain capability available leveraging a separate dimmer on the removable driver, it supports 0-100% illumination modification and up to 15 leds daisy-chained in series, it supplies different light brightness for various plant stages and meanwhile reduces power waste. Home-use and commercially-viable led grow light ts3000 performs well in efficiency and light coverage that is suitable for both home cultivation and commercial projects, able to operate on 120vac and 240vac, and 277vac. Model: mars hydro ts 3000 led grow light. Number of leds: 1016 pcs. Spectrum:660-665nm, 730-740nm, 3000-3200k, 6000-6500k. Core coverage: 4ft 4ft 1.2m 1.2m.
Max coverage: 5ft 5ft 1.5m 1.5m. Product size: 641.5579.268.63mm. Product weight: 5.1 kg. Recommend ventilation kits:6'' inline fan carbon filter combo.
1 x mars hydro ts 3000 led grow light. 1 x yoyo rope ratchet. 1 x free power cord with plug(us standard plug).
Discreet package guaranteed, protect your privacy. Certificate of plug:100% safe to use(ul, bs, dve, saa, pse, approvel). This item is made of led diodes.