Mars Hydro TSL 2000W Full Spectrum 2x4ft 3x5ft Dimmable LED Grow Light for Indoor Hydroponic Plant Veg Flower with 684pcs LED for Greenhouse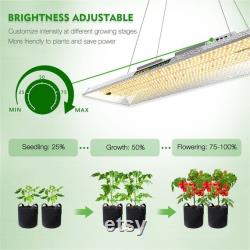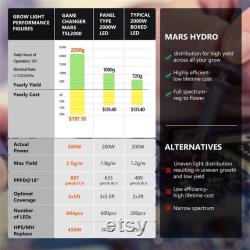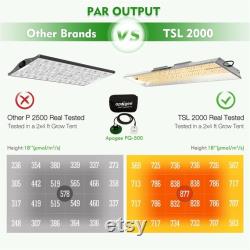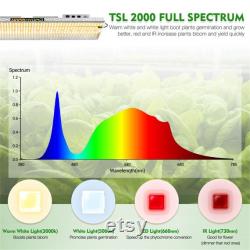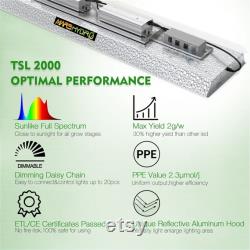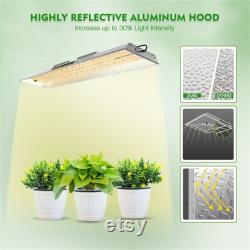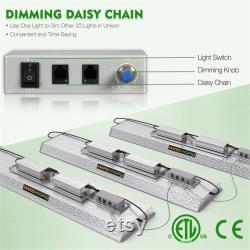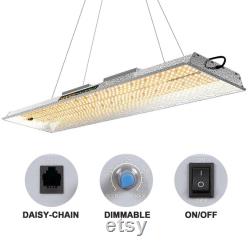 Model:brand new tsl 2000 with one pair of rope ratchet. Upgraded commercial led grow light, easy dimming & daisy chain function, up to 15 multi-lights connected, convenient main light controlled; 2 auto sensing power supply works on both 120vac and 240vac and 277vac, suit for large rooms and commercial setups. High efficiency energy saving plant light, only 300 watts true output with 684 pcs leds, more scientifically and energy-efficient perfect for 3' x 5' veg stage, 2' x 4' bloom stage, higher intensity in a mars hydro grow tent, reflective area, or by crossing over using multiple ts2000. Sunlight full spectrum led grow light, infinite close to natural sun light, suit for all plants whole stages indoor growing, rapid plant response from seed to flower, achieve maximum quality and quantity, much better than traditional hps grow systems. High reflective & noise free-fanless quantum light boards design, quickly heat dispersing material aluminum reducing light lost to aisles and walls, increase the light intensity up to 20%, allowing your plants receive more energy and without burning your plants for maximum headroom.
Model: mars hydro tsl 2000 led grow light. Spectrum: 660-665nm, 3200-4200knm, 5200-6800knm, ir 730nm.
Actual wattage(+-5%): 300w/120v, 298/240v, . Core coverage: 4ft 2ft 122cm 61cm. Max coverage: 5ft 3ft 200cm 90 cm. Par value: 877mols, high ppe up to 2.7umol/j. Product size: 39.2x9.9 x3.5inches99.6x 25.3 x9cm. 1 x mars hydro tsl2000 led grow light. 1 x yoyo rope ratchet. 1 x free power cord with plug(us, eu, uk, au, canada japan plug). Fast discreet package guaranteed, protect your privacy. Certificate of plug:100% safe to use(ul, bs, dve, saa, pse, approvel). Recommended hanging distance above plants. Seeding: 24" germination: 24"-30.
Veg: 18"-24" bloom: 12"-18". Veg: 18/6 (on/off) or 20/4 (on/off).
This item is made of aluminum plate and led diodes, smd chips, metal, ballast.