Martian Tower Garden Hydroponic Tower To Grow 80 Plants (In Stock USA No Drop Shipping )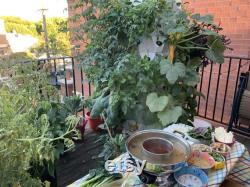 You can growing your food, year-round, from the comfort of home. Introducing the martian tower garden a hydroponics tower that allows you to skip the soil and grow herbs, salads, fruits, and vegetables directly in a self-watering low maintenance, highly efficient device with nothing more than nutrient-rich water.
Martian tower garden is a modular, stackable, and mobile vertical growing ecosystem, specifically engineered to maximize yield and automation, producing a fresh harvest with minimal effort. Martian tower garden allows you to grow your very own food at any time of the year, regardless of the weather, and net 40% higher yields with up to 95% less water than traditional methods.
Grow fresh vegetables in the comfort of your home 3 times faster - that means you'll be enjoying abundant, nutritious harvests all year round without having to wait long. The martian tower garden lets you quickly grow your own fresh, nutrient-rich food without the learning curve or time commitment of traditional gardening. It is a set-it and forget-it system where you don't have to nurture the plants or check the water levels constantly. Everything is automated and easy to setup. Led lights included in listing so you can grow indoors and outdoors.
Martian tower garden hydroponic tower to grow 80 plants. 10 layers 8 holes per layer, totally 80 planting. Width: 26 inches, height: 66 inches.