Mega Mushroom Grow Kit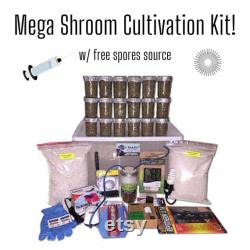 The mega shroom cultivation kit includes the following. 18 ultimate pint substrate jars- pressure sterilized and ready to grow. Grow up to 30 jars at once. New digital thermometer with hygrometer/humidity gauge.
Liquid graphite adjustable under-tank heating mat with adjustable thermostat. Custom hydroponic humidifier with hydroton. Electric air pump, ultra quiet.
2 silicone air filtration hoses with hepa filter built in. Heavy duty electric timer with 48 on/off settings per day. 900 lumen 110v 36-diode hp led plug-in grow light with dual spectrum technology (new).
4 led diode blue spectrum battery operated grow light (for off grid use). 2 gallons of perlite- fine, imported, specially formulated horticulture grade. Glossy, full color, easy to follow growing guide with step by step photo instructions. Includes our secret tips, tricks and hints that other grow guides leave out. Includes how to incubate, how to fruit, casing methods, etc.