Micro Growlight Garden T5ho (Black) Micro Growlight Garden Makes It Ideal with Limited Space Use in Home, Office or Restaurant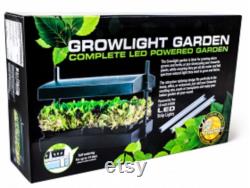 The reduced footprint of the micro growlight garden makes it ideal for those with limited space. The attractive table top design makes it perfect for use in the home, office or restaurant. Anywhere you want to grow fresh herbs, micro greens or perhaps showcase your favorite plants. The micro growlight garden comes with everything you need to get up and growing quickly and easily.
Choose from our original sunblaster t5ho lighting or our new led strip light. The sunblaster t5ho grow light replicates natural sunlight for year round growing. Supplied with 4 reusable tough growing trays for easy succession planting. Includes raised platform insert and capillary matting allowing plants to self water for up to 14 days (subject to climate conditions).
Canopy height adjusts easily to a maximum of 38 cm from the base to achieve optimal plant growth. The micro growlight garden comes complete with. One sunblaster 12 11 watt 6400k grow lamp and ballast.
One sunblaster 12 nanotech t5 reflector - maximizing performance. Power cord with on/off switch. Garden canopy - height adjustable to 18 above the plant canopy. Heavy duty base - serves as the reservoir for auto watering via the included wicking mat.
Raised platform - for auto watering via the wicking mat. Wicking mat for auto watering - transport water to your plants. Four seedling trays - proving both auto watering capability and aeration in one great tray.