Microgreen Desktop Garden Kit Grow Tray with Grow Light, Timer, Seeds, and Grow Medium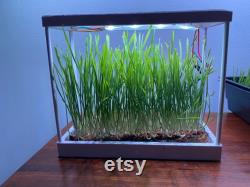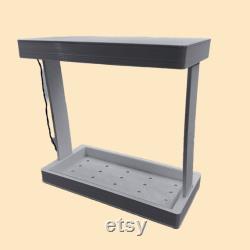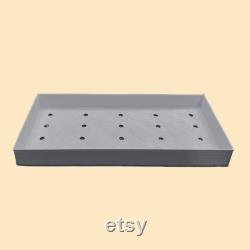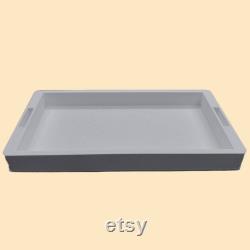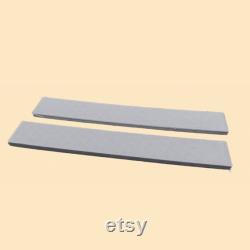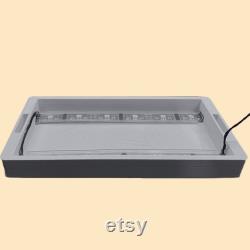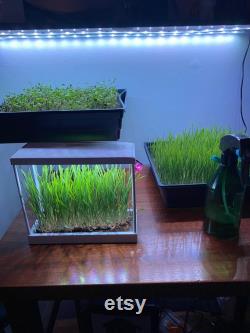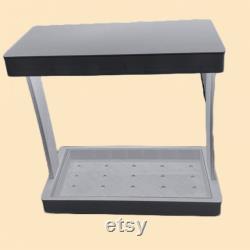 Wake up to fresh greens grown in a beautiful form factor. The microgreen desk garden is a hydroponic microgreen grow tray with a built in grow light and timer. Sow seeds - water daily - plug in the light on morning 4 - harvest 6 days later. 10 days to fresh greens.
It's plug and play. Sow seeds seeds on your countertop keep them moist and covered to let them germinate. The hydroponic tray is designed for bottom-watering which makes watering super easy. 3-4 mornings later, easy-setup the light and plug it in.
The light will turn off after 14 hours, then turn on the next morning at the same time you plugged it in on day 1. At this time only wheatgrass seeds are available.
Check back later for more options. Remove the tray from the base. Fill the base with just enough water to cover the bottom. Adjust this amount each day depending on how dry your medium is.
You can usually tell by looking or touching. If it feels dry, add more water. If it is still wet from the day before, add a little less. Make sure to monitor both ends of the garden for water. If your desk is slightly off level, water may pool at one end.
Rotate the tray to make sure you are watering evenly. In about 10 days you will be ready to harvest your microgreens. Throw em in a salad, blend for a smoothie or juice em. Whatever you like if you grow wheatgrass, you can even feed them to your dog or cat. Or, you can let them continue growing longer for a unique and fun addition to your desk. Join the seed club to get seed and grow medium replacements sent to you on a monthly basis (pause or cancel at any time). You will be waking up to fresh greens. This item is made of 3d print filament and bamboo grow medium, microgreens seeds, 3d printer.