Mini Greenhouse Indoors Plant Growing Kit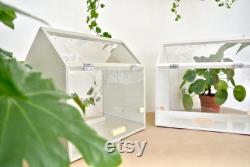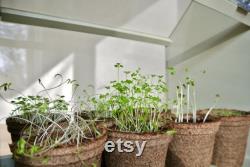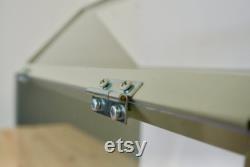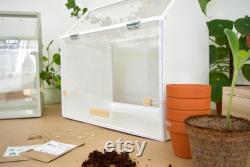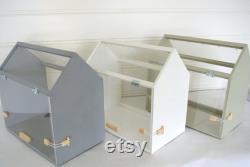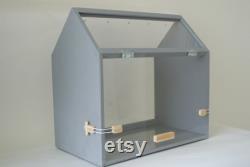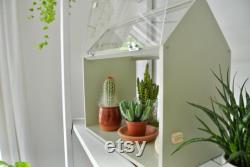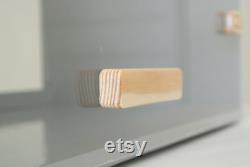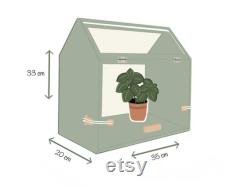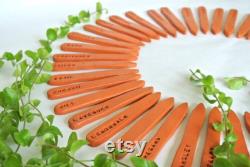 Do you want to pre-sow indoors in order to plant the plants outside later. The greenhouse is ideal for growing your own plants, vegetables or herbs. Place the greenhouse in a sunny spot in house so that your seedlings get enough heat and light.
This creates a climate that is ideal for germination of the seeds and then the growth of the seedlings. The greenhouse is handmade from wood and plexiglass.
The frame is made out of wood. This provides a clear view and a lot of light. There are holes on one side of the roof for ventilation. The lid on the front with hinges can be opened completely for easy care of the plants. The bottom of the greenhouse consists of a water-repellent foil.
The handle and closures on both sides are also made of wood and are lacquered. The greenhouse is also ideal as a small display cabinet to put your most beautiful plants in.
Gray chalk paint matte finish concrete look. With the greenhouse you also get 8 matching peat pots. Because the greenhouses are completely handmade, they can differ slightly in appearance (than the greenhouses in the photo).
Each greenhouse has a unique appearance. Length: 35 cm 13.78 inch. Width: 20 cm 7.87 inch. Height: 33 cm 12.99 inch. This item is made of hout and plexiglas, textiel, ijzerwaren.