Mini greenhouse with grow light Broody XL for Indoor Plant Care, with ultra clear Silicon cover, indoor greenhouse kit,portable, Plant shelf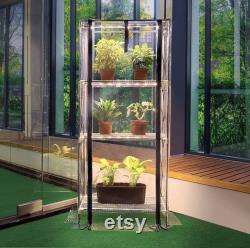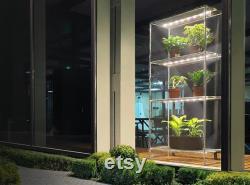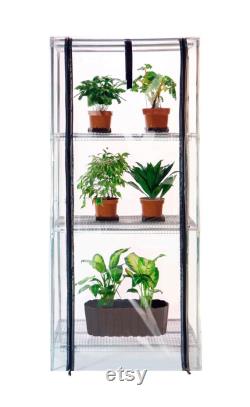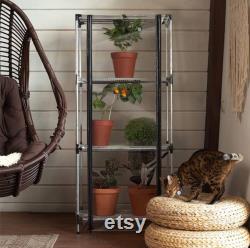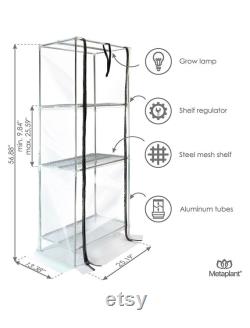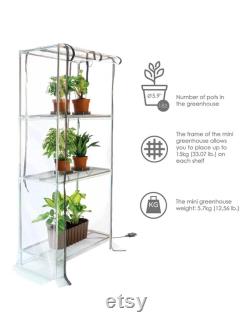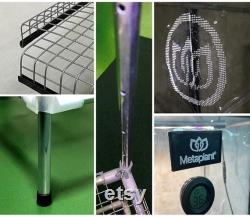 Item dimensions lxwxh 13.39 x 25.2 x 56.69 inches. Item weight 8.5 pounds.
Provides optimal conditions for seed development and plant growth. A transparent cover made of a250 micron thick silicone film reliably protects plants from sudden changes in temperature and frosts, wind, and insects. Designed for growing seedlings, ornamental plants, flowers, succulents, micro-greens, bonsai.
Full spectrum leds - the best on the market for phyto light today. Broody xl takes up little space - an area of only 0.2 m2. If necessary, the cover can be removed and use the design as a light rack for home plants. Broody xl is a collapsible mini home greenhouse for plants, with built-in phyto-lights and an ultra-transparent cover.
The greenhouse is designed to create an optimal microclimate for light-loving and tropical plants in a city apartment, to protect plants from wind and pests. The broody xl mini-greenhouse is a three-storey structure made of light metal (aluminum) tubes with intermediate shelves for placing plants and is designed for plant care at home. To create an optimal microclimate, a transparent cover is provided, which also protects plants from low temperatures, pests and drafts. The use of led diodes, specially developed by samsung for plants, gives a luminous flux of up to 7000 lux and a luminous flux density of 106 mm / m2 / s. Light output 220 lm / w allows you to place indoor plants inside rooms without compromising their growth and development. The frame of the mini-greenhouse allows you to place a total load of up to 20 kg (44 lb). The simplicity of the design allows you to assemble the greenhouse in a few minutes. The frame elements are made of corrosion-resistant materials. The outer cover is made of a 250 m thick silicone film of increased transparency (flexible glass) and allows you to fully observe the development and condition of plants. The beauty of your plants is always in sight.
The multi-storey design of the frame structure allows you to compactly and conveniently place the broody xl mini-greenhouse in the limited conditions of a balcony, patio, terrace, loggia, apartment. Sezam xl takes up little space only 0.2 m2.
If necessary, the cover can be removed and the structure can be used as a light shelf for home flowers. The transparent cover is equipped with a flap-door with a zip lock, which provides easy access to plants for watering and maintenance. Creating an optimal microclimate for plants in the broody xl mini greenhouse allows you to quickly get excellent results. Specifications of the lamps when used at a height of 7,87inch from the plant. Number of leds(samsung lm301b)3 20.
Number of additional leds3 4 (optional). Lamp size240.74 inch (diameter) 60019 mm (diameter). Luminous flux density (par)3 106 mol / m 2 / s. Luminous flux (v)3 1517 lm. Luminous performance220 lm / w.
Energetic illumination (irr)22.57 w / m 2. Color rendering index cri (ra)85.66%. Color temperature (cct)3317 k. Assembled mini greenhouse sizel 25.19 w 13.38 h 56.88 1445 640 340 mm. Weight, without box5.7 kg 12,56 lb.
Packing sizel 18.50 w 3.93 h 29.92 760 470 100 mm. Weight of packing6.0 kg 13,22 lb.