Mobile Greenhouse Cabinet Small Turn-Key Seedling Grow Station for Indoor Outdoor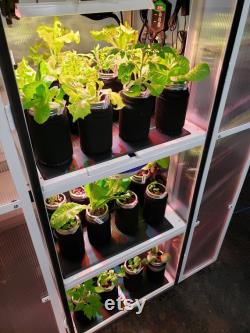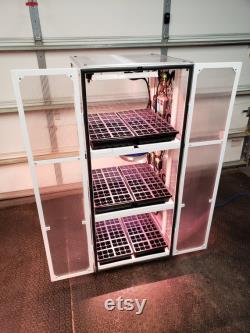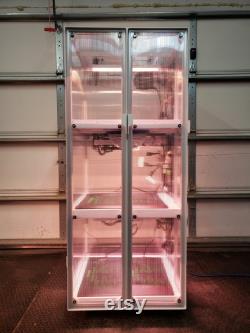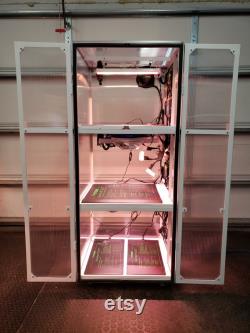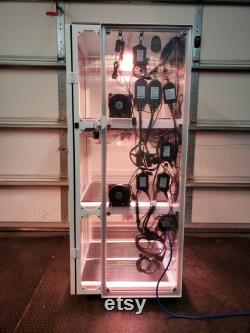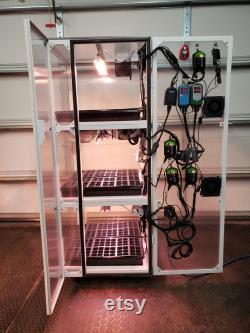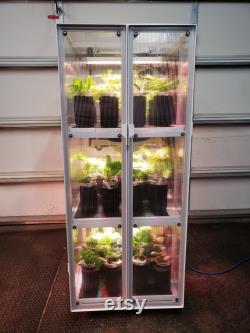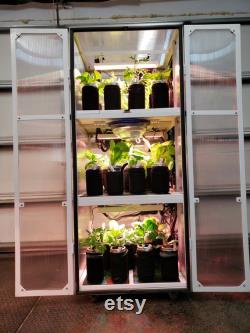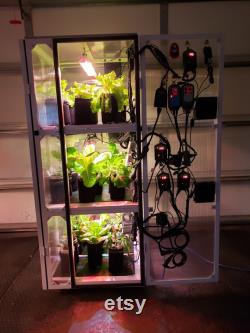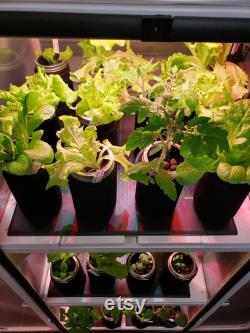 This unit is designed to fit six 1020 grow trays or any number of different sized planters and grow pots. We recommended it for unfinished basements, shaded patios & porches, kitchens, living rooms, recreation rooms, garages, covered gazeboes, offices, storefronts, inside larger greenhouses, and more. The model shown hosts the ultra package. 1020 trays, 32oz mason jars, & plants are not included. Chassis: custom welded 1/8 steel frame on non-marring casters with an ultra-durable uv-protected multi-coat finish.
These are strong enough for outdoors and small and sleek enough for in. Enclosure: twinwall uv-protected polycarbonate panels are taped, trimmed, and firmly bolted to the frame with continuous 3m backed uv-protected seals along their perimeters.
These create a long lasting quality sealed environment and maximize the efficiency of the greenhouse. Electrical & power: water resistant surge protector and inlet.
Simply plug it in with your favorite quality extension cord. Air mechanical: powerful and quiet exhaust fans controlled by automated thermostats and humidistats. These automated systems help keep your greenhouse from overheating or getting too humid. Fire suppression: each unit comes with an automated fire extinguisher. Designed by a former space architect.
Pre-wiring integration & professional cable management. Built with a craftsman's eye & a personal investment in product quality. American made & local to the woodbury, mn / prescott, wi area.
It can fit easily inside most suvs. All attributes of the base model as well as. Heat: each level hosts a large, quality heat mat controlled by separate programmable thermostats. These keep your root beds warm for germination or colder weather.
Humidity: structural elements are added to hold a clear water chamber and controllable humidification system. This keeps the greenhouse from getting too dry and allows for your garden to expand hardiness zones. Circulation: quiet internal fans at each level and between levels. These more efficiently mix the atmosphere and keep it consistent at each level. Electrical & power: the power supply is upgraded to accommodate the additional equipment.
Stimulates germination and seedling growth. Lights & timer: three 17 led grow lights connected to an automated timer.
We exclusively use happyleafled brand lights due to their top of the line qualities in science, technology, and production. All attributes of the base model as well as the climate package and the lighting package.
These are currently being built to order to keep up with demand. This item is made of metal and polycarbonate, heater, cooler, humidifier, humidistat, thermostat, fans, filter, wood, lights, timers, power.