Monotub Grow Kit for Manure Loving Mushrooms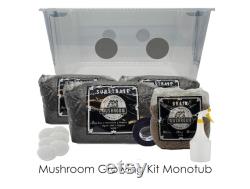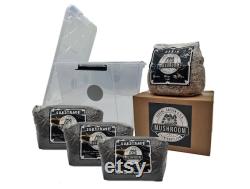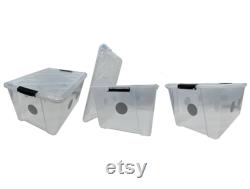 Monotub grow kit for manure loving mushrooms. Mushroom growing kit monotubs provide all that you need for a succesful harvest. 1 monotub with filtration ports. Bags of manure substrate (3).
Monotub grow kit for manure loving mushrooms your complete solution for cultivating a bountiful harvest of mushrooms at home. Designed specifically for manure-loving mushroom species, this all-in-one kit provides everything you need to get started and enjoy a successful growing experience.
Say goodbye to the hassle of sourcing and assembling individual components; our grow kit has you covered. What's included in the monotub grow kit.
Monotub with filtration ports: our high-quality monotub features built-in filtration ports to ensure a clean and healthy environment for your mushrooms. 12 monotub filters: to ensure your mushrooms breathe fresh and clean air, our kit comes with 12 monotub filters. These filters are easily replaceable, allowing you to maintain an ideal growing environment at all times. Bag of sterilized grain: your choice of rye, milllet or combination grain. Our sterilized grain serves as the perfect foundation for your mushroom colony. Bag provides ample space for your mushroom spores to colonize and grow, preparing them for the next stage in the process. Bags of manure substrate: specifically designed for manure loving mushrooms, our manure substrate serves as the ideal nutrient-rich environment for your mushrooms to thrive. Bags offer a generous amount of substrate, ensuring ample room for growth and a bountiful harvest. The manure substrate is comprised of organic manure, coco coir, vermiculite, gypsum and oyster shell. Bag of coco coir: coco coir is a versatile, environmentally friendly growing medium that helps maintain the proper moisture levels and aeration in your monotub.
Bag provides the perfect amount for your mushroom growing needs. Spray bottle: the included spray bottle helps you maintain optimal humidity levels inside your monotub, providing your mushrooms with the perfect environment for growth. With our monotub grow kit for manure-loving mushrooms, you'll have everything you need to embark on an exciting and rewarding mushroom-growing journey. Whether you're a seasoned mycologist or a beginner looking to explore the fascinating world of fungi, this comprehensive kit is the perfect starting point.
Order your monotub grow kit today and experience the joy of cultivating your own mushrooms at home. This item is made of manure substrate and monotub, coco coir, vermiculite, gypsum, oyster shell, manure compost, monotub filters, monotub filter tape.