Mushroom Agar Preparation Kit Pour agar plates like a pro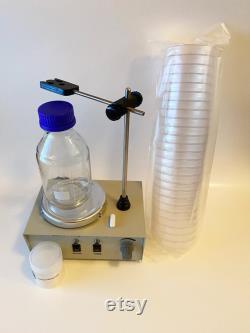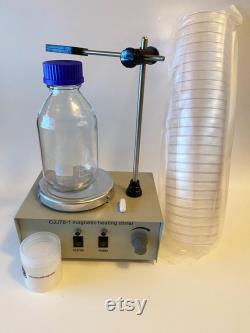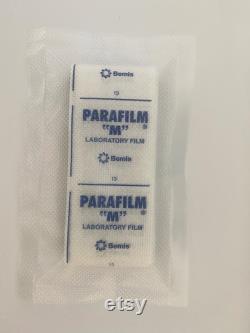 Mushroom cultivation agar plates preparation kit includes all you need to pour your agar plates like a pro. 1x magnetic stirrer hot plate. No noise, no vibration, electronic thermostat and the stirring effect is remarkable. With single point and multi-point stirring at the same time, easy to operate.
Smooth running, step-less speed control, in a wide speed range to have precise and stable mixing for a liquid solution. Reliable round plate for vessel holds up to 1000ml and comes with all parts needed to start mixing and heating samples immediately out of the box. 1x 78-1 magnetic teflon magnetic stir bar. 25x sterile disposable petri dishes. 1x 500ml glass round media storage bottles with gl45 screw cap, borosilicate glass. Bottle includes a linerless, one-piece autoclavable blue polypropylene plug seal gl45 threaded cap with a drip-free pouring ring. Max temperature of 140 degrees celsius (284 degrees fahrenheit). 1x 50gr malt extract agar powder. This item is made of magnetic stirrer and teflon stir bar, malt extract agar, petri dishes, hot plate, parafilm.