Mushroom Fruiting chamber SGFC style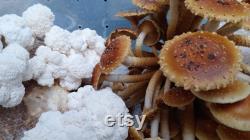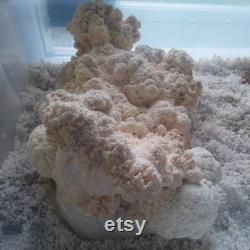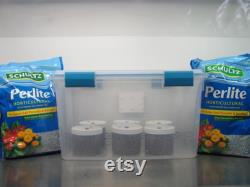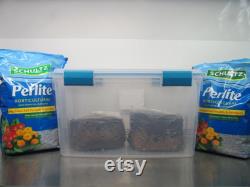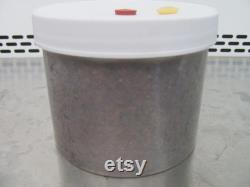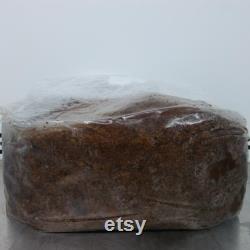 The shot gun fruiting chamber aka sgfc offers a simple, easy to use mushroom growing experience. It can be used to cultivate a wide variety of mushrooms. Excludes the need for expensive, over complicated gadgets that are only needed for commercial large scale grow operations making this kit available for all ages just set it up, check on it every once in a while and mist as needed to keep the cakes and perlite damp (not wet).
Most likely you will be looking at it constantly so it should be easy to maintain. Two 8quart bags of perlite. Two 5lbs bags of substrate. Masters mix or cube substrate. Six reusable pp5 plastic brf jars.
Standard brf or wood based brf. A free mister just in case one is needed. Setup is ridiculously easy, contact me for instructions. I just wanna talk to you get to know you.
Information on pf tek jars. Interested in how the sgfc works. Shotgun terrarium theory of operation. The theory of operation for the shotgun mushroom fruiting chamber is that natural air currents travel from areas of high pressure to areas of low pressure. Cool air has the molecules closer together than warm air, thus cool air is at a slightly higher pressure than warm air. When we put several inches of damp perlite in the bottom of our terrarium, we create an area with a slightly cooler temperature than the air above, which is exposed to lights that create heat, and our mushroom substrates, which are often at up to a few degrees warmer than the surrounding air due to thermogenesis. This temperature differential, however slight, results in enough of a pressure gradient that it causes air to flow up through the perlite, absorbing moisture as it travels, and into the relatively lower pressure air within the fruiting portion of our fruiting chamber. This air then exits through the holes in the upper section of the terrarium, carrying the excessive co2 produced by our mycelium out with it. With this design, no electrical or mechanical equipment is required. Regular misting helps to keep our brf cakes or other substrates moist, and also serves to replace the moisture that evaporates from the perlite.
Contact me for any question.