Mushroom Grow bags (100) for mycology.with INJECTION PORT, MicronFilter Patches Size Small 3-5lbs of grain or substrate. mushroom cultivation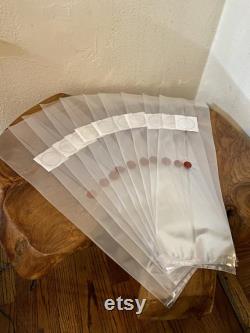 The measurements are 5 inches by 19 inches and can expand to a with of 5 inches. The bags are heat sealable, and can be used in pressure cookers.
These bags are perfect for beginner or advanced mushroom growers and can hold up to 5 or 6 pounds of spawn depending on spawn density. They can be used to sterilize substrate as well. These bags are reusable and. 2 micron filter is resilient.