Mushroom Grow Kit FAME Kit Fully Automated Mushroom Ecosystem Mushroom Kit with Temperature, Humidity, fanning and Lighting control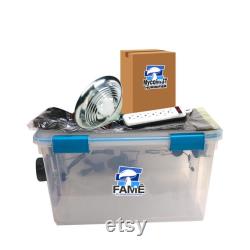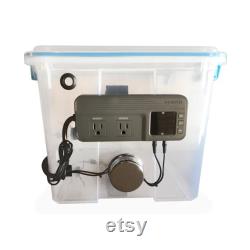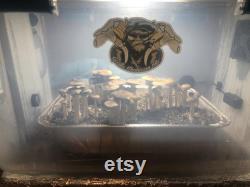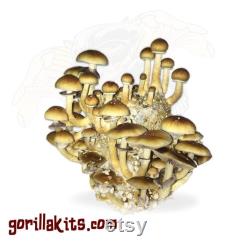 Introducing gorilla mushroom grow kits, a true guerrilla growing experience the first fully automated mushroom ecosystem. Our flagship fully automated mushroom ecosystem or fame for short is a multi-functional ecosystem that can be used to spawn, and fruit all sorts of medicinal, edible and gourmet mushrooms. A true set and forget experience, well, don't forget because your mushrooms will grow so fast you will be harvesting constantly. With its sealed lid and filtered intake port it allows for any experienced or novice grower the ability to grow their favorite mushroom strain.
No more worries about fanning 1-2 times a day during fruiting stages as our automated fanning system takes care of that for you not 1, not 2 but 8 times a day lighting, humidity and temperature control is fully automated with this system. Auto fanning (no need to fan yourself). Digitally timed lighting (preset to your time zone). System controls preset to optimal settings for fruiting exotic strains. 1x 54 quart/13.5 gallon clear storage tote (gasket around lid creates perfect seal).
1x single outlet digital timer with 1sec intervals and 8 on/off settings (preset for 3min/8 times a day). 1x 3 vent fan for automated fanning (pre-installed).
1x 4l humidifier for adding humidity (humidifier may be different than pictured until we find a stable supplier but of same quality). 1x 60w equivalent daylight led bulb and socket reflector. (safe to set on top of clear tote).
1x 6 outlet power strip. The chamber holds up to 18 (8oz) substrate jars. Gorilla mushroom kits nor its affiliates promote nor endorse the growth of psilocybe cubensis mushrooms.
Ecosystem is a perfect ecosystem to grow psilocybe cubensis, (magic mushrooms), you will need to check with your local, state and federal laws before performing such grows. Our kits are intended for edible, and gourmet mushrooms only and we will not be held liable for any grower breaking the law.