MycoDRYER Vortex Mushroom Dryer Dehydrator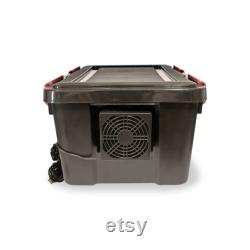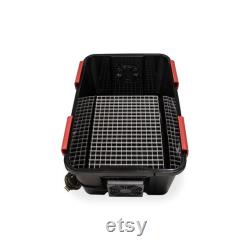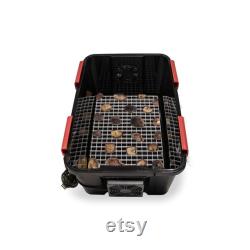 Mycodryer vortex - plug n' play design. Please read entire description so you know what you're getting, complaining it's too small and leaving a 1 review isn't fair when we list the dimensions. Take the time to read, we took the time to write. Mycodryer vortex is back and bigger this new dryer is perfect for the hobbyist mushroom grower looking for an automatic drying solution. Say goodbye to outdated methods and say hello to a true mushroom innovation.
The mycodryer vortex utilizes an 80mm low noise fan with pre-filter to not only blow a continuous gentle breeze across your mushrooms, but also to collect dust particles and stop them from entering the chamber. Equipped with an internal drying rack, the mycodryer vortex allows for an even dry on the top and bottom of your mushrooms causing minimal to no concern for mold or rot to set in on those precious stems and caps. There are two things that harm your mushrooms during the drying and storage phase, that is light and moisture. The mycodryer vortex, addresses both of these detrimental issues. Each unit is fitted with a usb adapter so that you can plug it into any standard 2 prong 120v outlet.
With a power consumption totaling 1.1 watts, this unit is sure to help dry your mushrooms while adding virtually no cost to your electric bill. (averages less than $1 a year in electrical charges). Added internal grill guards help to prevent anything from sticking into the moving fan on the inside of the unit.
Don't wait around for your mushrooms to dry, simply place them to the mycodryer vortex and let the system do the rest. While not needed you may add on a pack of our mycobluballs to layer in the bottom of your mycodryer vortex to utilize desiccant drying as well as air drying. While air drying your mushrooms is more efficient and effective, utilizing both forms of drying can have added benefits, such as faster drying. Using both methods to dry get's your mushrooms nice and crisp for long term storage. Use our mycobluballs in your final storage container also, so that you can continue to keep your mushrooms dry for the months to come.
Long term storage on certain mushroom varieties need a cool, dark and dry environment. The more light and moisture you expose your dry mushrooms to the less potent they're flavor an medicinal effects can be. Average dry time is 12-96hrs based on strain, moisture content, and outside humidity levels of the room or space the vortex is placed. Some beefy strains or bulky strains may take longer than 12-96hrs. If this is the case, we suggest adding some mycobluballs to the bottom of your chamber to help absorb some of the moisture.
This is rare as the fan moves 26 cfm or cubic foot per minute. 16"x 10" x6 inside dimensions.
80mm fan w/pre-filter assembly, and internal wire grill for safety guards. Ac120v to dc12v usb adapter.
Usb power cord with daisy chain ability. Average based on 1.1w at 24hrs a day 365 days a year at $0.10 per kw/hr. Most clients will not run this 24/7 so your average will be most likely much less. For those who are growing in a bulk substrate or casings or are growing 6+ jars at a time you may want to check out our mycodryer vortex xl version.