MycoDRYER Vortex XL Electric Mushroom Dryer Internal Drying Rack Daisy Chain up to 4 XL Dryers on 1 Turbo Adapter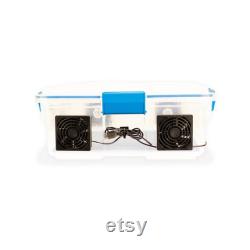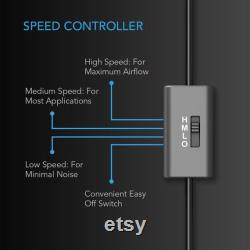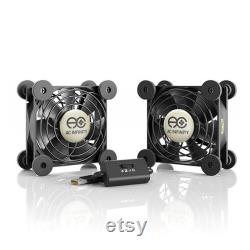 Mycodryer vortex xl is here this new dryer is perfect for the serious mushroom grower looking for an automatic drying solution. Say goodbye to outdated methods and say hello to technology with a multi speed fan air flow controller you can dial this mushroom dryer in to the perfect level. Just plug it in to virtually any 3-7v usb power jack or into the included 120v power adapter and this mushroom dryer is ready to go. Literally no setup time involved; just unbox the unit, remove any packaging materials, add your mushrooms and turn it on growing gorilla mushrooms like us no problem just grab another vortex xl and plug it directly into the daisy chain extension included in every fan assembly.
No need for multiple plugs on the wall. You can add up to 4 mycodryer vortex xl's on a single power adapter, and the dryers are stackable.
The mycodryer vortex xl utilizes dual 80mm low noise fans with pre-filters to not only blow a continuous gentle breeze across your mushrooms, but also to collect dust particles and stop them from entering the chamber. Equipped with an internal drying rack, the mycodryer vortex xl allows for an even dry on the top and bottom of your mushrooms leaving you with peace of mind, as you will have no concern for mold or rot setting in on those precious stems and caps. There are two things that can harm your mushrooms during the drying and storage phase; those would be light and moisture.
The mycodryer vortex xl, placed in a low or no light cabinet or room, takes care of both of these possibly detrimental issues. Each unit has a usb power cord with daisy chaining function (with optional turbo power usb to ac adapter, can speed your rpms up by 25%) and can be plugged into most usb power sources or adapters between 3v - 7v. With a power consumption totaling less than 3 watts, this unit is sure to help dry your mushrooms while adding virtually no cost to your electric bill. External filter grills, on the outside of the unit, stop dust and debris from being blown all over your mushrooms.
Added internal grill guards help to prevent anything from sticking into the moving fans, on the inside of the unit. Don't wait around for your mushrooms to mold by slow drying them or getting dusty using a basic fan, simply place your mushrooms into the mycodryer vortex xl on the internal drying rack, and let the system do the rest.
Mycodryer vortex xl approx: (24" x 18" x 7 outside dimensions). Dual 80x80mm fans w/pre-filter/grill, and internal wire grill/safety guards. Internal drying rack to allow optimal air flow above and below. Usb power cord with daisy chain capabilities to add up to 3 more dryers. Usb to ac 120 volt, 2-prong adapter.
24" x 18" x 7h. Ultra-quiet usb fans designed to air dry mushrooms. Features a multi-speed controller to set the fan's speed to optimal noise and airflow levels. Dual-ball bearings have a lifespan of 67,000 hours and allows the fans to be laid flat or stand upright.
Usb plug can power the fan through usb ports found behind popular av electronics and game consoles. Dimensions: 3.2 x 3.2 x 1 in. Per fan total airflow: 52 cfm total noise: 18 dba bearings: dual ball. Be sure to check with an electrician before attempting to plug this unit into a usb port. Amps/volts and watts must be taken into consideration when plugging an electronic into a power source.
You could ruin the device or the power supply or device. This item is made of 30 qt drying chamber and 11in x 16in internal drying rack, dual 80mm usb fans, optional turbo adapter daisy chain 4 units.