Mylar Hydroponic Grow Tent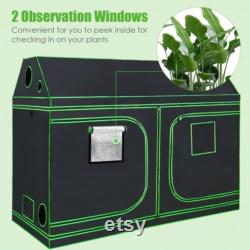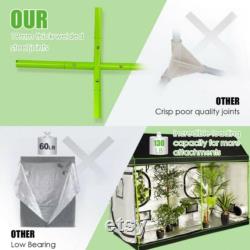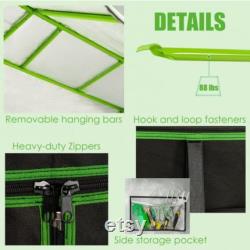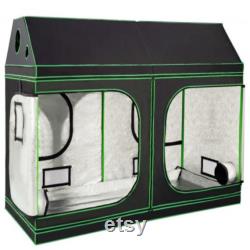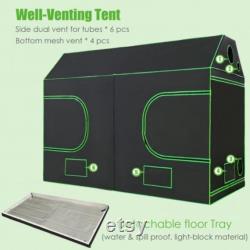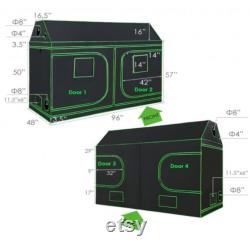 Material: 600d aluminized film, steel polesproduct dimension: 96'' x 48'' x 72'' (l x w x h)maximum weight of hanging bar: 130 lbsnet weight: 40 lbspackage includes:1 x indoor grow tent1 x instructions. Light proof and extra thick canvas: our indoor grow tent uses high reflective 600d polyester materials, which are able to keep all the light inside and retain the heat. Intensifying the effect of your grow light and keeping the temperature inside at the right level, this dark room makes your herbs, fruits, and veggies thrive. Stable and qualified construction: framed by solid steel poles, this grow tent is within standard stability and reliability for long-lasting use. The detachable aluminized floor tray is water-repellent, tear-resist, and also spill-proof.
Easy observation and ventilation: 2 observation windows give you the freedom of checking in on your plants at any time without zippering down the doors and causing interference to the growth of the plants. The grow tent also packs ventilation socks and meshes to foster a healthy environment. Ample space with hanging bars: with a growing area of 96''x 48'', this indoor grow tent delivers a spacious room for you to manage your greens and even accommodates a raised garden bed. Hanging bars of a maximum weight of 130 lbs help you to set up your growing light and other devices. Easy to set up: with detailed and professional instructions, you are able to install the entire grow tent at ease.
All the parts and tools you need will be prepared for you on the package for a successful assembly. Product dimension: 96''x 48'' x 72'' (l x w x h). Great hydroponics growing light kit system starter from this indoor grow tent. Tear-resistant aluminized film walls deliver great heat and light detention, benefiting the growth of your veggies and plants, while the removable bottom tray of the same quality is water-resistant and spill-proof. Heavy-duty steel poles hold the tent upright and stable with enough rooms to accommodate couples of plant pots and even raised garden beds.
Packed with ventilation holes and meshes as well as easy observation windows, this indoor grow tent lets you manage your pots with easy operation. Moreover, hanging bars also add more practicability to the whole tent. If you are looking for such a product, don't hesitate to place an order. 600d aluminized film and bottom tray, resisting water and tear, blocking lights and soil leakage. An ideal indoor growing tent is good for the growth of greens.
Using steel poles to form stable and strong frames. Hanging bar for setting grow lights, each holding weight of 130 lbs. It has multiple ventilation socks and meshes for airflow. Small visible windows allow you to have a peek at the inside of the tent.
A growing area of 96''x 48'', adaptable to many plants growing facilities. Assemble should be fast and easy with detailed manual guidance.