Netafim Woodpecker Pressure Compensating Junior Dripper 1.0 GPH (Grey) 250 units per order Bulk Savings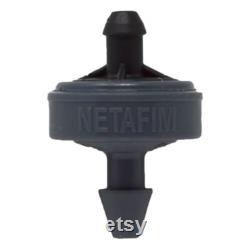 Netafim woodpecker pressure compensating junior dripper - 1.0 gph (grey). 250 units per order bulk savings. The netafim woodpecker junior drippers have a barbed outlet and cnl check valve that helps prevent low emitter drainage.
The anti-siphon operation prevents contaminants from being drawn into the emitter. These woodpecker drippers are pressure compensating and deliver the same flow from 12 - 58 psi.
The barbed outlet fits the netafim super flex uv white pe tubing (hgc747561). Pressure compensating drippers (pc) developed with advanced pressure compensating technology delivers a uniform flow rate even in areas with difficult topographical conditions. A unique pressure differential mechanism regulates flow and provides self-cleaning action, even while irrigating for a clog-resistant design and high emission uniformity.
Clogging resistance: continuous self-flushing technology ensure consistent flow-rates and flawless operation even with harsh water. Easy to scale: number of drippers can be easily increased ensuring sufficient water to meet your crop growth rate requirements. Maximum flexibility: micro-tubes allow drippers to be positioned exactly where required, and split into several drip outlets if needed. Anit-drain mechanism (cnl feature): eliminates drainage & refill effect, and improves efficiency during pulse irrigation.