Outdoor Garden Greenhouse, Walk in Polycarbonate Greenhouse, 8.3' x 6.2' x 6.6' Greenhouse with Sliding Door and Rain Gutter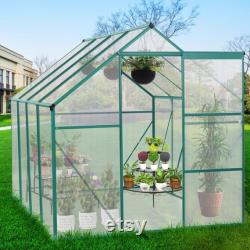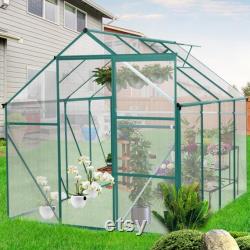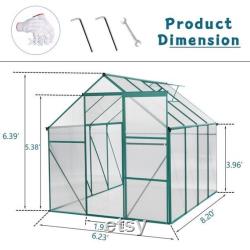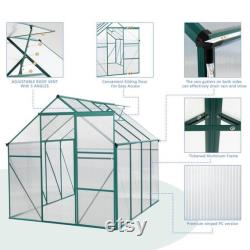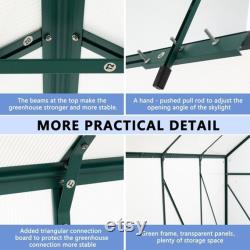 Walk-in greenhouse, create the ideal growing environment for your plants, extend the growing season, enjoy the fun of planting, and keep spring forever. In what ways can polycarbonate greenhouses improve the plant growth environment. Keep heat for plant growth---the outdoor greenhouse is covered with 4mm thick polycarbonate, which provides more than 90% light transmittance, allows enough sunlight to pass through, reduces the temperature difference between day and night, and keeps the interior of the greenhouse warm. More protection for plants---4mm double-wall polycarbonate roof blocks up to 99.9% of uv rays and diffuse sunlight, eliminating the risk of plant burns; can withstand outdoor temperatures of -20c - 70c, protecting plants from being infested by frost or pests.
Perfect airflow---large enough size for flexibility to grow more plants and flowers; adjustable dormer windows and sliding doors ensure optimal air flow. Advantages you will find in use. With a stable and maintenance-free aluminum structure, more aluminum poles are added to each side, and the stability exceeds 99% of the greenhouses on the market. The sloping roof won't collect water on top; with efficient gutters, you can use the container(not included) to collect rainwater directly, saving water to irrigate your plants.
The foundation is made of color steel plate, which is better than the ordinary galvanized base; the walk in greenhouse can be fixed in the soil or cement and has excellent wind and snow resistance. The adjustable roof allows insects to enter the grow house to collect pollen, help with sowing and provide fresh air at all times. Sliding doors allow easier entry and exit, preventing animals or pets from entering. Not only for growing plants, seeds, herbs, vegetables, or flowers, but also for storing gardening tools and other supplies. Overall dimensions: l 99.8 x w 74.8 x h 78.74 inch.
Total product weight: 75 lbs. Our greenhouses are suitable for a variety of environments, locking in heat and moisture during the day and keeping plants warm at night, significantly increasing the survival rate of early spring seedlings. Not only to create a beautiful plant landscape but also a fun way to teach children to protect nature. Loved by gardeners, you can give it to your parents, grandparents or friends as a gift.
Comes with 2 pairs of gloves and installation tools, all parts have corresponding codes, just follow the instructions to complete the installation.