Outdoor Wood Storage Cabinet, Small Size Garden Shed with Door and Shelves, Outside Tools Cabinet for Patio (30.3 x21.5 x56 )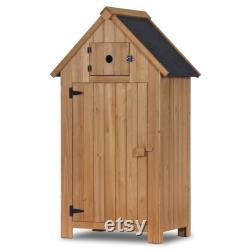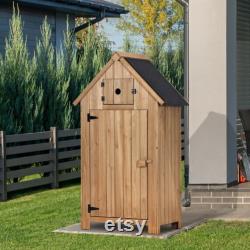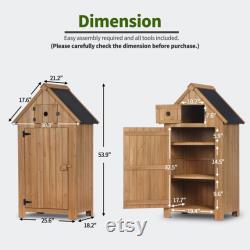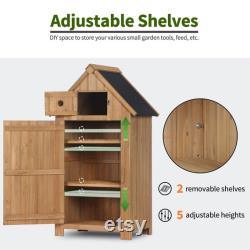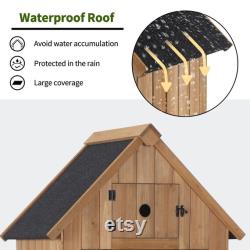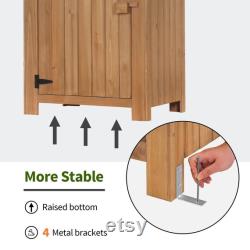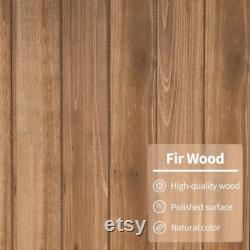 Small wood cabinet: the small size wood storage cabinet allows you to place it in more places, such as outdoor, indoor, garden, yard, porch and even more. (dimension: 30.3 x 21.5 x 56). Waterproof roof: the sloping roof is covered with asphalt, it's not only waterproof but also void water accumulation, making the garden tool storage cabinets longer service life outdoors. 2 removable shelves: the shelves of the outdoor storage cabinet can be easily taken out, and 4 different storage spaces are constructed to store your various small garden tools, feed, etc.
Fir wood: the outdoor storage cabinet is made of high-quality pure fir wood, and the exterior has been polished to express a rustic style. Medium brown blends easily with other décor and natural settings. 4 metal feet nails: the outdoor wood tool shed has 4 raised feet, so don't worry about the uneven ground.
At the same time, there are 4 metal nails to help you fix the wood cabinet. The garden wood storage cabinet can store most of your tools, such as watering can, water pipes, spades, pots, etc. Ending the messy garden life and tired back and forth. Own this outdoor wood tool cabinet, enjoy a relaxing outdoor life.
Item name: outdoor storage cabinet. Overall dimension: 30.3 x 21.5 x 56. How to solve any issue of the product.