Outdoor Wooden Storage Shed Utility Tool Organizer with Waterproof Asphalt Rood, Lockable Doors, 3 Tier Shelves for Lawn, Garden, Natural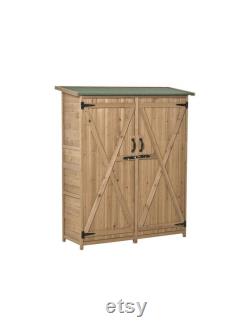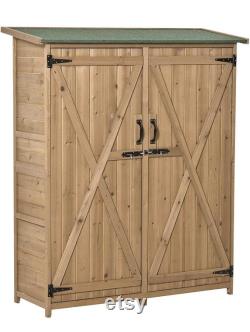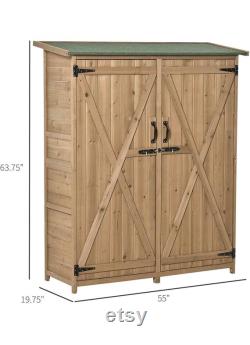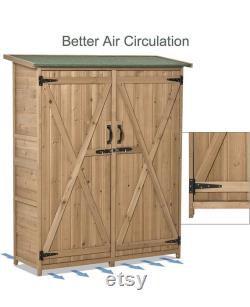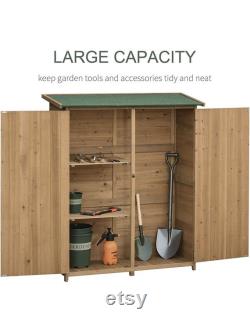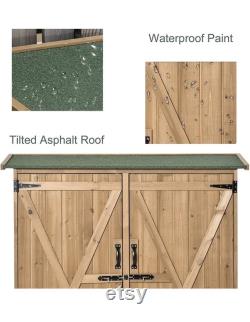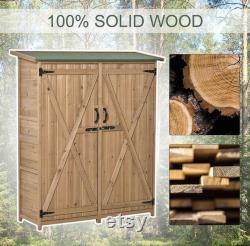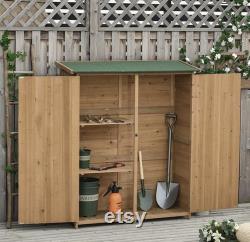 Store your tools: this storage shed is made of solid fir wood with a exterior paint and features an off-the-ground design. That this storage sheds outdoor can withstand harsh weather and outdoor elements. Organize your tools: this garden shedd is divided into 4 shelves: the right shelf is designed for long-handled gardening tools, and left 3 shelves for outdoor equipment.
Each shelf of this tool storage house can hold 33 lbs. Protect your tools: the tilted asphalt roof of this wooden storage shed outdoor protects your shed from wind and rain while keeping the shed from filling with water. Secure your tools: this backyard sheds for storage allows quick and easy access to your equipment with 2 handles on each door, and includes locks on the doors to prevent damage from wind or small animals. For all your tools: the wood sheds & outdoor measures 55 l x 19.75 d x 63.75 h, ensuring that you have a garden's-worth room for your all tools in this tool shed.
Is your garage cluttered with large garden tools, stepladders or lawn furniture installing our outdoor storage cabinet in your own backyard is a great way to reclaim your outdoor space for your tools and accessories. The tool storage shed is divided into 4 shelves, and provides spacious room for storing different tools and keeping them neat and tidy.
This garden shed can stand up to bad weather and is super handy to use. Spacious space for storing tools, garden tools, lawn care equipment and more. Built from 100% fir wood construction. Coated with exterior painting and stands off-ground.
Sloped asphalt roof prevents rain from pooling. Double magnet doors for easy access.
Max load (each shelf)33 lbs. Overall dimension55 l x 19.75 d x 63.75 h. Left shelf dimension23.5 l x 15.75 w x 23 / 22.75''/ 22.25''h. Right side dimension23.5 l x 15.75 w x 61''h.