pH up down, Superthrive, Liquidirt starter kit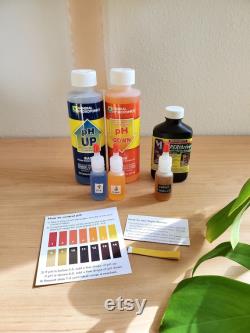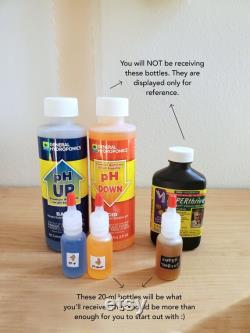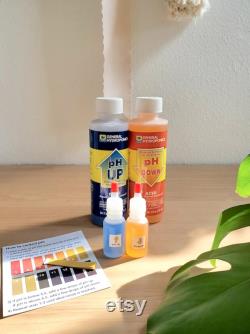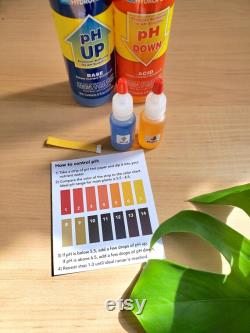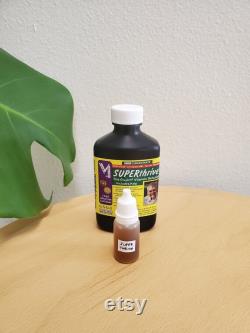 Add ph up and down to your semi hydroponics starter kit. 20 ml of general hydroponics ph up. 20 ml of general hydroponics ph down. 5-8 ph test strips to test your starting ph, plus a ph color chart. Step-by-step directions to control the ph of your nutrient solution. (add-ons) 20 ml of superthrive plant vitamin. (add-ons) 20 ml of liqui-dirt.
Please note that the bigger bottles that are pictured in the back are only for reference. You will only be getting the smaller bottles in the front (20 ml) as this is meant to be a starter kit.
Do i need to control my ph, and why. Depending on where you live and the starting ph of the water in your region, you may not need ph control. I live in california and my starting ph is about only slightly below 7 - which would still be fine if you're just starting out semi hydroponics however, ph control is essential for vigorous plant growth.
Nutrient solution ph that is too high (basic) or too low (acidic) cannot be properly absorbed by plants. The best ph for plant growth is generally in the range of 5.5 to 6.5 - slightly acidic.
By maintaining nutrient ph within the range of 5.5 to 6.5, you can assure your crop "maximum availability" of all nutrient minerals. This will give you higher growth rates and happier plants.
What else do i need besides the ph up and down solutions. First things first, you will need to know the starting ph of your water or nutrient solution.
You can test this with a digital ph meter, a ph indicator solution, or some ph test strips that will turn a certain color depending on the ph level. Good news - this listing now includes 5-8 ph test strips with a color chart so you can test your starting ph, to decide how much ph up/down you'll need to add. How much ph up and down will i need. These solutions are highly concentrated (which also means you should keep them away from your eyes or mouth), so you should only need a few drops to control 1 gallon of a nutrient solution. 20 ml of each ph up and down would be more than sufficient to start your semi hydroponics journey.
What is superthrive is it the same as fertilizers. Superthrive is the essential vitamin solution for plant growth, that can be used both in soil and in hydroponics system. It is not the same as fertilizers and should only be used as a complement to a complete fertilizer program. For growing and maintenance: superthrive encourages the natural building blocks that plants normally make themselves under optimum conditions, so it gives plants a better chance of achieving their full growth potential. For transplanting: transplanting trees and plants can result in stress, which can negatively affect health through loss of leaves, damaged roots, and loss of your plant or tree. Using superthrive before planting can prevent and treat shock and insure survival. Liqui-dirt is a full vitamin and mineral plant supplement, with microbial and beneficial bacteria complex. Great to increase growth and nutrition for all plants, from indoor houseplants to gardens even lawns. I like to alternate my usage of liqui-dirt with general hydroponics fertilizers, so every 2-3 weeks when i need to'flush' my nutrient water.