Phytosanitary Certification for international purchases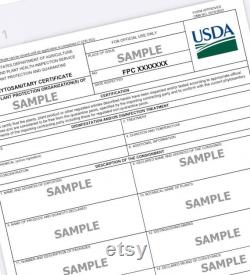 The phytosanitary certificate, ppq form 577, is used to certify that the domestic plants or plant products have been inspected according to appropriate procedures, and they are considered to be free from quarantine pests, practically free from other injurious pests, and conform to the current phytosanitary regulations of the importing country. Replacement is not an option for customs seizure.
You are responsible for knowing exactly what paperwork is necessary for your specific countries customs. Even with phytosanitary certification many factors could lead to the demise of your new plant. That being said: we have many happy international customers who received their beautiful plants in good time. We look forward to sharing our beautiful plants with you.