PICKUP ONLY TX Locals (77356) Greenhouse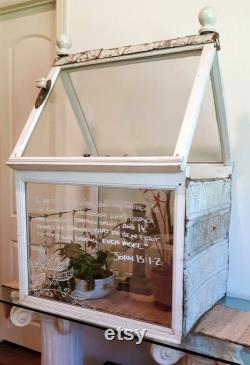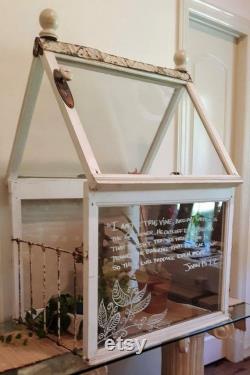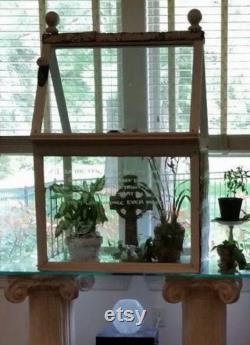 He cuts off every branch in me that bears no fruit, while every branch that does bear fruit he prunes so that it will be even more fruitful. This rustic greenhouse has a french provencal (or shabby chic) style and can be used indoors or out (i've always had it indoors). It's made out of vintage windows, a pressed tin ceiling tile, vintage ironwork, and doorknob hardware. Salvaged accents are not reproductions. They are one-of-a-kind and are from the late 1800s to the early 1900s.
The old windows are likely from around 1960. It measures (approximately) 50 inches high, 25 inches deep, and 33 inches wide. Scripture (john 15:1-2 niv) and artwork on the front of the greenhouse is chalk marker and can be wiped off with water. This is what inspired the "vine" artwork which of course pairs nicely with the scripture. The plant, cross, and any items inside the greenhouse are not included.
Proceeds from the curated emporium go towards making bead the change a ministry that may donate 100% of proceeds to christ-centered ministries. The emporium is made up of inspired necklace, earring, and bracelet designs; as well as upcycled or simply vintage items we have come upon during our journey. By purchasing from here, you are increasing the impact of bead the change. This item is made of wood and tin ceiling tile, ironwork, brass, glass.