Plants Galore with LED light indoor system. Flat fee shipping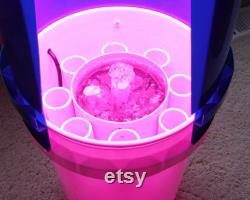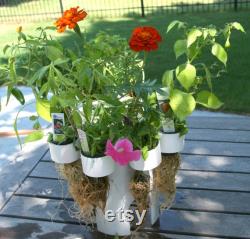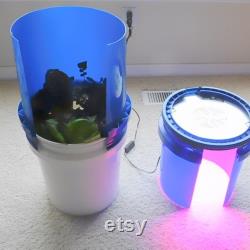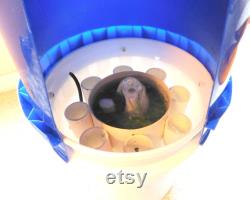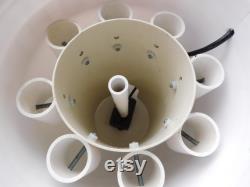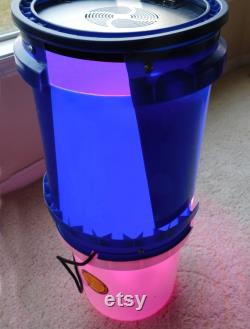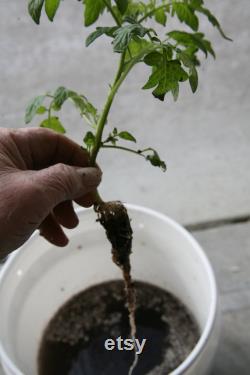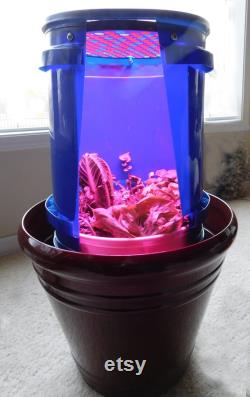 The plugin 110 volt light and pump allows you to place the plant's galore system anywhere it's convenient. Inside on a counter in the kitchen, laundry room it doesn't matter because the system is totally self-contained and does not leak or drip ever.
It's safe on a rug in the living room as you watch your plants grow. Ideal for growing herbs for daily cutting or lettuce for fresh salads.
Even in a cold garage, the led light gives off a warm atmosphere perfect for maturing plants from seed or providing a stable environment for seedlings. The grow light uses a minimum of power and can be left on continuously for thousands of long life hours. The grow light provides enough system heat for starting seeds in the garage even in cold weather. The light shade rotates around to allow plant access and all around covering the access opening containing heat and making the system light to glow through the translucent white pail and the dark blue light shield and mount at night time.
Safe to place anywhere, it's a totally contained drip proof system. See pictures of growing herbs from seeds under the led grow light. Herbs shown are from seeds planted in grodan foam blocks. Basil, cilantro, chives, garlic, dill, mint, oregano, thyme, sage. Plant seedlings, with roots, washed off, lettuce, tomatoes, peppers, etc, for a quicker start. The low-cost plants galore system comes fully assembled and has just a few parts. A lift-off and slide on light assembly can be rotated to close off the access opening and lift out of the 8 pod ring assembly. The ring assembly easily lifts out from the large 5-gallon food grade pail for planting ease and pump access. The eight grow pods are mounted with a inch plated bolt which doubles as a root grow around supporting your plants in their pod. When planted with seedlings or plants started from seed in grow foam plugs, the plugs are wetted from the visual fountain with an irritated nutrient supplanted water stored in the pail. Nutrient/water flow is contained and recirculated back into the pail. Three or 4 gallons of water and nutrient will last for well over a week if left to run continuously day and night. Tap water is ok to use even with slight chlorine. The chlorine will help control algae growth. Ph between 6 and 7 is best and standard in most households. Stuff the planted foam block into a grow pod.
Plant small seedlings with roots exposed and mostly washed off. Seedlings will grow with almost 100% success. Plant by splitting the foam around the plant stem above the roots and stuff it in a grow-pod. The nutrient, several full seasons of maxigrow is supplied.
A couple tablespoons or less per gallon of water is stored in the pail. A pail half full will last well over a week in moderate weather.
Tomatoes drink a lot and in hot weather may need a little more attention. A high-quality eco175 pump with only one moving part is provided.
The pump can run continuously, or turn off at night, providing a visual aerated nutrient fountain to drizzle down inside the pods feeding the roots uniformly throughout the 8 pod ring. A flow control valve is included so the flow can be adjusted from a full flow to a slow trickle. The pump and valve are easily accessed by lifting the ring assembly and water spreader out of the pail.
This can be done at any time even when your plants are fully grown. 1 do not look directly at glowing light for an extended time. 2 do not expose kingbo 50 light to water.
Do not use outside without cover from rain or sprinklers. A white food grade pail with light shield mounting holes and a slot for the pump wire to pass through. A dark blue light shield with pump cable pass through and 3 mounting studs and plastic nuts.
A fully assembled 8 pod ring. A powerful, quiet, reliable eco175 pump with flow control. A constant flow fountain pipe with flow control ball valve. A green water spreader and drain plug. Enough for several seasons of.
A kingbo 50w ufo led grow full spectrum grow lite light panel. With co a kingbo 50 watt ufo led grow lite.
14 foam grow pod fillers. An adjustable grow light dark blue mounting shield. With 3 light containment screws. A split snap-on light shield lock ring.
The herbs shown are all grown from seed over about 3 weeks time under the kingbo 50 watt light. Lettuce, tomatoes, peppers, even melons will thrive on your plants galore platform. Lowes pot shown is not part of the order. Available from lowes for about $18.00.