Presto 23qt Pressure Canner Cooker Induction Compatible 01784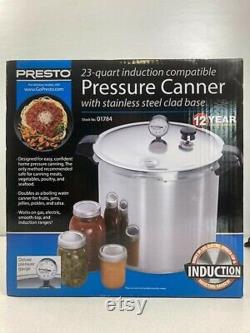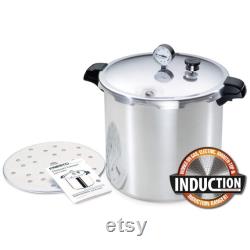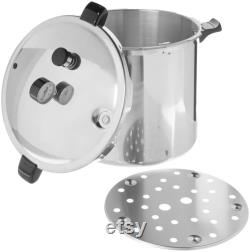 Sterilization is essential for success in mycology. After several requests from my european friends having difficulty obtaining a pc large enough and capable of reaching proper temperatures for substrates and grain spawn i've added them to the shop. Presto 23qt pressure canner and cooker. The easy-to-read gauge automatically registers a complete range of processing pressures.
Air vent/cover lock allows pressure to build up only when the cover is closed properly and prevents the cover from opening until pressure is safely reduced. This presto pressure canner also doubles as water bath canners for preserving fruits, jams, jellies, pickles and salsas. Constructed of extra-strong, warp-resistant aluminum and suitable for use on regular and smooth-top ranges. Includes cooking/canning rack and complete instruction and recipe book.
Mason jar capacity: 26 half-pints, 20 pints, 7 quarts. "23-quart liquid capacity (21.8 liters)". Note: this pressure canner is designed for use on household range burners of 12,000 btus or less. Please make yourself aware of these before purchasing. I constantly shop for the best prices in order to pass on savings to my customers and would like them to know this is in no way the fault of this shop.
Orders may be cancelled if item proves unavailable within reasonable time. This item is made of aluminum, weighted rocker, pressure gauge and steel bottom.