Red Cedar Ten Gallon Aquaponic System (US Shipping Included)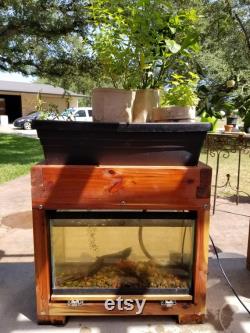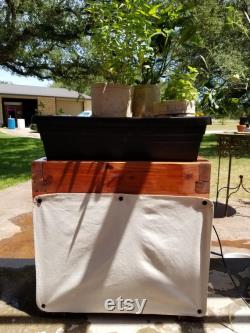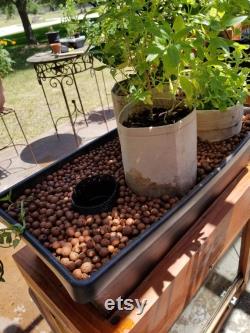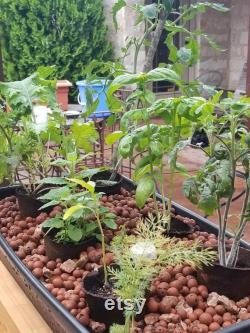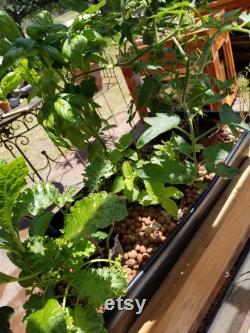 This is a small aquaponic unit that is designed for indoor and/or outdoor use. Aquaponic rigs of this size are perfect for beginners, classroom/demos, and small scale urban farming. Use this unit and our aquaponic training course resources to learn how to grow leafy greens and herbs in a kitchen window or on the back porch. Note: tank is not included.
We believe the best way to learn aquaponics is to do it yourself. There are countless of aquaponic training courses that offer a weekend of on site tours or 8 weeks of online videos for upwards of a thousand dollars. While this can be a great for the potential commercial farmer, we believe in a learn as you do method where we connect you to expert growers for help and support as you run a small aquaponic system from the comfort of your home. This unit will come with a detailed instructions manual to walk you through how to grow your fresh produce aquaponically as well as startup, maintenance, and troubleshooting instructions.
The frame is handmade out of cedar and treated to prevent water damage. Method: ebb and flow (no siphon). Media: granite gravel and expanded clay mix. Grow bed: 23 inches by 12 inches. Plants supported: 6 herbs/greens or 3 fruiting plants.
Power: 7 watts (measured not calculated). Aeration elements: air stone, waterfall, and bubbler. Aquaponic beginner guide manual included. We use locally-obtained moisture resistant cedar for our material, the colors of the build may vary from build to build, but the craftsmanship and quality is the same. Aquaponics is a tool, a method for nitrogen fertilization.
Do not expect the practical use of aquaponic systems to be entirely maintenance free. Monitoring of pests, nutrition, and ph balance are still critical. For more information on aquaponics visit us at kodaponics.
This item is made of cedar.