Rocky Mountain Mono style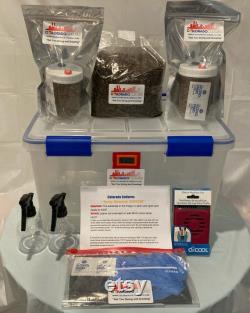 Specially designed mono tub on steroids with built in meters to keep you doing everything right to get you flushes of fungus the rocky mountain mono tub is designed to be used in low humidity situations like colorado. You don't have to live in colorado to repeats its benefits though, follow the instructions and you will be rewarded.
This item is made of 44 quart airtight tank and built in hydrometer thermometer, 5lb substrate bag, 2 sterilized spawn jars, 2 spray bottles, electric fan, step by step instructions, sanitation kit.