Secret Jardin Grow Tent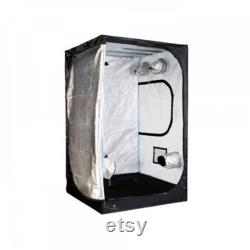 Secret jardin dark room 3.0 dr120 grow tent, 47" x 47" x 79. Approximate size: 4' x 4' x 6.5' (120 x 120 x 200 cm).
Improved the dark room ii pro is the new, improved version of the original dark room with several upgrades. Stronger and more durable than previous dr models. 210d fabric has 2.5x tear strength and 3x the abrasion resistance.
Webbed interior fabric for better light proofing. Newly engineered corners- 3x more robust than the old dr corners. A dark room is the foundation of a completely self-contained indoor garden, featuring a lightweight, durable, washable interior reflective lining. The frame supports up to 65 pounds of lighting, ventilation or other equipment, and every unit has access ports that accommodate ducting or other equipment. Dimensions: 47.25" x 47.25" x 78.75, approximately 4' x 4' x 6.5'.
8 total ports: 2 for exhaust, 2 for intake, 2 for cables, 2 for cool tubes. Removable waterproof tray in bottom.
Lightproof: totally light proof when closed. Diamond technology: the reflective layer greatly increases light intensity. The equipment support tubes can hold up to 65 lbs (30kg) of accessories. Easy assembly: easy and quick to assemble, even for large sizes. Can be assembled by one person in a few minutes. No odor, washable: the material is washable inside and outside, so all odors can be removed.
Portable, light weight: the material is light and compact, even for large sizes. Can be carried and stores easily. Recommended lighting: 1 x 600w hps or mh system, or led grow light. Secret jardin was founded in 2006 as a company specializing in the field of climate-controlled horticulture.
They were the first company to incorporate hammered effect mylar into their tents (with the mylar serving as a barrier to toxins generated by pvc, with a reflectivity value of over 95%). Secret jardin combines research, innovation and manufacturing quality to bring you total satisfaction with all their models. The ambition at secret jardin is to bring you the best grow tent. Patented technology: the secret jardin tent designs are developed by their own research and development department.
All their innovations are patented by their factory in schenzen. Quality control: secret jardin places great importance on the quality of its products. Each container undergoes a quality check upon leaving the factory and a second check is made when it arrives at their logistics centre in belgium. Without phthalates: secret jardin products have a 95% reflective hammered effect mylar layer which acts as a barrier against toxins (phthalates). Some products use thick layers of pvc as a reflective layer.
These can spread toxins in the tent. For secret jardin products they use a very thin layer of pvc to bond the mylar to the fabric. They use a high-temperature fabric manufacturing process which removes the toxins. Their products are qualified and their raw materials are routinely tested in accredited laboratories (epa8061 standard) to guarantee there are no phthalates or other toxins that may be harmful to plants.