Seedling Heat Mat Indoor Gardening quick germination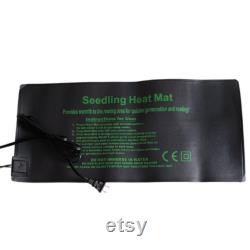 Heating mat- warms root area from 10 to 20f above room temperature to improve root growth, increasing the success of seedlings and cuttings with durable construction, waterproof and easy cleaning. Perfect for all plant types - use heating mat to heat virtually any plant in your home garden. Whether you're growing veggies, herbs, or flowers, our advanced heating mat increases the success rate of seedlings and cuttings.
Size: 20 x 10 inch. Failure to observe the following safety guidelines may result in fire, electrical shock or damage to the heating mat. Never allow the heat mat to become submerged in water or any other liquid.
Never place the heat mat on or under any other heating, warming or insulating device. Never place the heat mat on rough or pointed surfaces, as this action can damage the mat.