Smart GreenHouse, Harvst Sprout S24 Home Vertical Farm, App controlled, Heated, Solar Glass House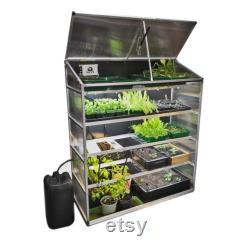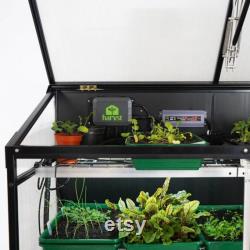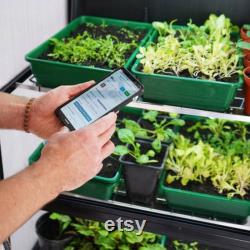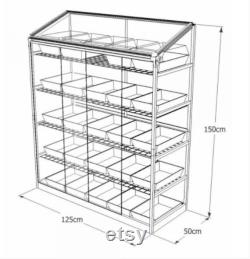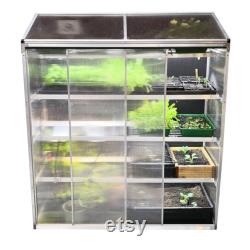 Harvst sprout s24 home vertical farm. The harvst sprout range are four season home vertical farms that are strong, compact, productive growing spaces that allow you to grow fresh produce at home all year round. Powered by 240v mains, these systems are fully equipped with heating, lighting and smart sensor-driven irrigation, meaning you can produce fresh produce with minimal space and effort. It also has an automatic opening lid to help keep things cool in the summer. These growing spaces are monitored and controlled by the harvst web app, meaning you can check in and see what the growing environment is like inside, from anywhere at any time.
The sprout range are built to last. They are constructed using a strong all-aluminium frame, and twinwall horticultural polycarbonate panels which won't shatter or smash. These units are designed to protect your plants from all the elements, and have been tested in the gales of west wales. The compact size of the sprout range means you can fit one into any garden or yard, regardless of aspect or sunlight availability. All settings are managed using a free web app, for iphone, android, tablets and laptops.
The sprout will connect to your wifi network if you're within range, so you can manage and monitor your sprout remotely from anywhere. If you don't have wifi, that's fine too, there's an offline mode. Harvst led grow lights are low voltage, fully waterproof units designed specifically for the harvst growing system. They plug directly into the control unit and are controlled by an on-board timer which you can run twice a day. Harvst 10w led strip lights (11,000 lum at 20cm) fit to the underside of the mesh shelves and provide lighting for the shelf below, as well as heating for the trays/pots/plants above.
In order to provide ideal growing conditions in the harvst sprout all year round, heating will be necessary to maintain an optimum internal environment in the colder months. Growing temperatures can be maintained in the sprout via a heating cable which warms the internal growing environment. Harvst 12v heating cable is suitable for laying around the inside frame of the structure to warm up the interior. It is supplied as a 4m length, and is strong, waterproof and reliable.
The heater cable is self-regulating, which means it stays at a constant temperature regardless of the ambient temperature. On a colder day, it will use more power to stay warm, and on a warmer day, it will use less. The target temperature for the cable is approximately 50 degrees centigrade, so it is important to ensure it doesn't come into contact with roots or plants. The heater cable is only compatible with the harvst smart control system, and should not be connected to any other power source.
Mains powered control unit can provide power for add-on heaters and grow lights. Smart wifi enabled control system.
A mains power outlet is required within 5 metres of the control unit. Automatic opening lid for cooling in warm weather. Safe, protective twin wall polycarbonate panels. Lid opens automatically on hot day. Built in water tank (sprout 6 & 10 only currently). Sprout s6 - 64 cm wide x 50 cm deep and 90 cm tall, 6 seed trays on 2 shelves and base level. Sprout s10 - 65 cm wide, 50 cm deep and 150 cm tall, 10 seed trays on 4 shelves and base level. Sprout s14 - 125 cm wide, 50 cm deep and 90 cm tall, 14 seed trays on 2 shelves and base level. Sprout s24 - 125 cm wide, 50 cm deep and 150 cm tall, 24 seed trays on 4 shelves and base level.