Spider Farmer G1000W CO2 Full Spectrum LED Grow Light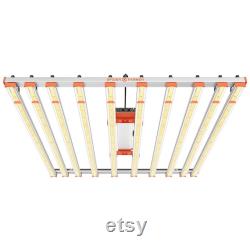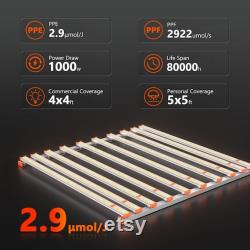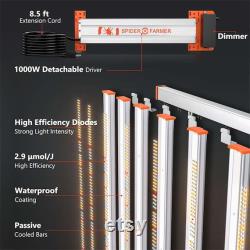 Coverage: flower coverage: 4'x4, veg coverage: 5'x5. Size: 45.31x45.31x3.03. Grow tent compatible: 5'x5. The g series features bridgelux diodes, while the se series is equipped with samsung diodes. Both of these brands are well-known in the industry and are considered reliable.
Maximum uniformity & efficiency: g1000w with unique designed extended 10 bars led grow light provide more even and full canopy coverage, especially to the outer cultivation areas. With 4910pcs bridgelux diodes, g1000w beacome a 1000w led grow light with 2922 umol/s,, achieving an impressive ppe of 2.9 umol/j, coverage for 4x4ft of commercial/5x5ft of personal high-yielding full-cycle growth. Full spectrum & dimmable: full spectrum led grow light (3200-4200k, 4800-5000k, 650-665nm) is perfect for seed to harvest, to adapt to each phase of the plant cycle. The dimming knob is ideal for growers to adjust the light intensity according to different growing stages. Daisy chain dimming: dimming daisy chain feature allows you to connect up to 60 of g1000w grow lights together dimming multiple lights simultaneously. Widely applied in the commercial growing (horizontal and 4x4ft vertical farming, racks), grow rooms, home grows (55 ft grow tents), dwc, hydroponics. Passively cooled & detachable driver: bar grow light design and aluminium heat sink on the back contribute to better airflow and great heat dissipation. G1000w plant growing lamp comes with a detachable driver and 8.5ft long power cord, there by reducing ambient heat in your growing space for extended lifespan. With the waterproof coating on the led diodes, worry free of the moist environment. Hassle-free shopping: spider farmer led growing lamps are often copied but will never have our quality or commitment, g series grow lights provide 5 year after-service of local maintenance center(us/ca/uk/de). Quality backed by our ironclad.