Sterilized Whole Oat Grain Spawn Bags 10 Pack 10x3lb Whole Oat Bags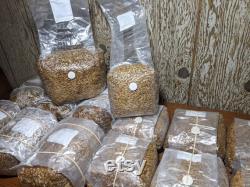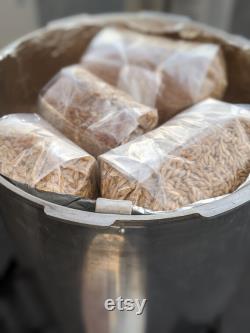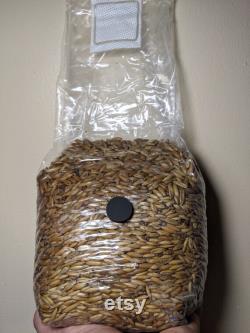 This listing is for a 10 pack of 3 lb whole oat sterilized grain spawn bags, for a total of 30 lbs. This product is awesome and works the best for growing beautiful and delicious mushrooms of any kind from home. Whole oats are resistant to contaminants and provide very quick colonization times for your mushrooms.
How to use: upon receiving the bags, we recommend to "inoculate" them within two weeks of receiving. This is to ensure maximum freshness of the grains, because the grain spawn bags are made fresh for every order to inoculate, simply take out your syringe that contains mushroom spores or liquid mycelium, grab a torch or lighter and put flame on the needle tip of your syringe in order to sterilize the needle tip.
Then, penetrate the white or black "self-healing injection port". For 3 lb whole oat bags, we recommend either 6-8 ccs of spore solution, or 3-5 ccs of liquid culture solution.
Then, simply place your inoculated grain spawn bag in a dark cupboard, cabinet or box and check back after a few days. You want your inoculated grain bag to be in a fairly warm area (70-80 degrees fahrenheit). This will help to "incubate" the mycelium and assist the mycelium to grow at a faster pace. What you are looking for is white "mycelium" growth in the grain spawn bags after the mycelium has been growing for a few days, we recommend to take the bags out and give them a good shake to distribute the mycelium evenly throughout the bag.
Then, just put the bag back and let it do its thing. Once the bag is fully colonized with white mycelium (this can take up to 20 days), then you are ready to mix your grain spawn bag with a substrate product and add it to your growing chamber.
How we prepare the bags: we begin the preparation process by simmering the grains on the stove for 30 minutes. Then, we let the grains sit for up to 2 hours for the grains to soak up water and become nice and plump. After this, we dump off the excess water from the grains and lay the grains out on plywood to dry to the perfect consistency. The grains are subsequently bagged and pressure cooked in 23 quart presto pressure cookers for 2 hours.
Finally, we let the cookers cool down and then open them in a sterile environment and seal with an impulse sealer. The self-healing injection ports are added, and then the bags are ready to be used our grains are made fresh for every single order. Mycocreationcraft offers to replace any bags totally free that have contaminated or are unusable prior to inoculation.
Thank you very much and please feel free to reach out if you have any questions. This item is made of polypropylene bags and whole oats, pressure cookers, rubber bands, injection ports, scale, grains, mushrooms, syringe, filter patch, impulse sealer, bucket, needle.