Still Air Box (SAB) Glove Box 52Qt 50L Sterile Workspace Gasket Lid Clear with gloves and clamps -Agar Cloning Spore Inoculation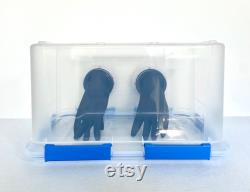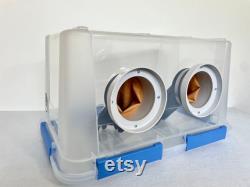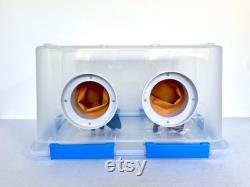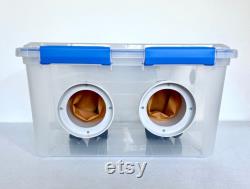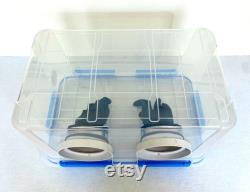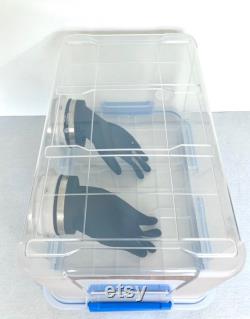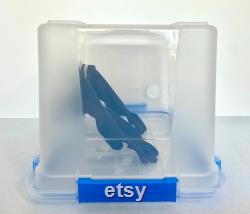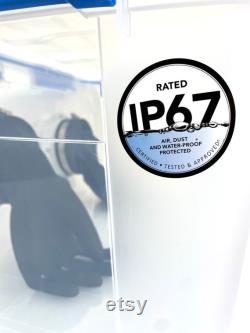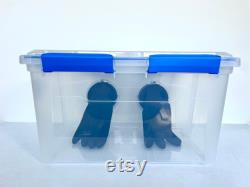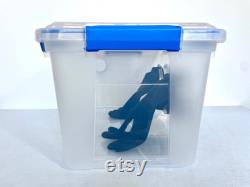 Our 50l sab still air box / glove box is the perfect size and ready to use. Save a lot of time, hassle and get straight to fun part of growing with better results, by using our ready to go box. This will minimise contamination and has a four large clasps air-tight fit.
The 52qt/50l is the best size as it will fit all your equipment in one round of transfers minimising contamination. It will fit your disinfectant spray bottle, normal sized bake tray, torch, a non-skid mat, scalpels, multiple agar dishes, grow bags, inoculation jars, bake tray, micropore tape etc.
The box is really good quality, rated ip67 - air, dust and waterproof, durable, bpa free and uv resistant. The purpose of the still air box, or glovebox, is to create a more sterile environment by eliminating air movement. The hand spacing is comfortable and allows you to reach every corner of this box perfectly. This space can be used for inoculating substrates, liquid cultures, grain bags, or performing any other mycological tasks that require a contaminant-free and still air space. Remember, you can't be too clean.
This glove box can be comfortably used both upside down (my preference) or right side up - whatever your preference is, with a clear view into the box. It has a secure wide grip with quality pressure grasps. The lid has a dust and waterproof silicone gasket seal. Gloves are easily attached and held in place using the adjustable clamps that are supplied. I've included my preferred heavy duty gloves with cotton flocked lining, and the stainless steel clamps ensures a tight seal (both supplied).
Let me know your glove size and i can attach it for you so your box is ready to use immediately - otherwise i will include a standard size large gloves which is a good generic fit for both men and women. You can also change the gloves to any type you prefer e.
Antimicrobial disposable gloves, roomier fit gloves, snug fit etc. Box dimensions: 578mm w x 382mm d x 218mm h / 57.8cm w x 38.2cm d x 31.8cm h. Size: 52.83qt / 50l. Type: translucent clear with 4-latch lid with pressure clasps. Gloves: heavy duty latex gloves, natural latex, cotton flocked internal lining, dot lining grip, great tactile sensitivity.
Review: thanks for the beautiful product. Very high quality and exactly like the photos. This item is made of ip67 rated and air, dust and waterproof protected.