Tall Milsbo Wire Shelf for Ikea Greenhouse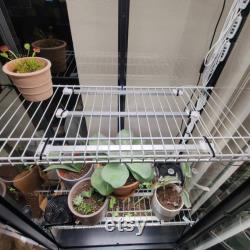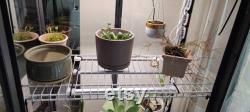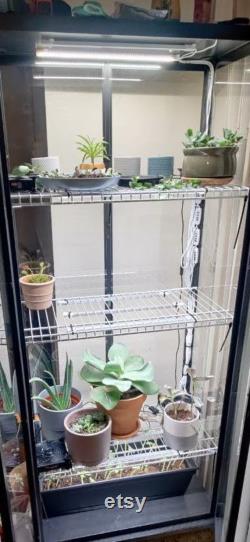 I'm very sorry about this, but our shop is closing and we do not have inventory to fill any orders. One length of 12in depth everbuilt ($16) (or another brand, $30) wire shelving.
-for 1 shelf, a 3 ft length is ok. -"regular duty" wire shelving should. -home depot will cut them down to. 26in lengths for you if you ask. Someone in the flooring dept. Ten endcaps per shelf you are planning for your milsbo.
One 4 pack of everbuilt 2 corner braces per shelf. Four 10mm m4 flatheaded screws (phillips driver) per shelf. Four 4in zip-ties per shelf. 1put the endcaps onto the cut shelves.
2screw corner braces into each corner of the milsbo. 2a screw the rear braces at the levels you want your shelf. 2b screw the front braces in the same orientation but use the top screw hole so that the platform sits 1 lower than the rear.
3 set shelf into cabinet so that the lip is facing out. 4 ziptie each corner of each shelf onto the corner braces they rest on. Tall milsbo ikea wire shelves. So many people are snatching up the ikea milsbo shelving units to make indoor greenhouses.
We have put together wire shelves to help allow for better airflow and new look to your indoor greenhouse the sit on top of l brackets that screw into the unit. The screws that come with the milsbo work great. We send extra screws incase you are adding more shelves. 1 wire shelf made to fit the tall milsbo. (+1 extra screw per order). This does not include the milsbo cabinet, and is 1 shelf cut to fit in the ikea milsbo cabinets.
This item is made of wire shelf and l brackets, screws.