The Flower Tower by Acre Towers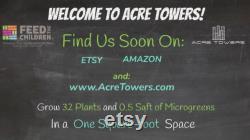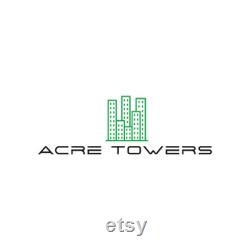 Mini-flower tower - by acre towers - patent pending. Our mini flower tower is a unique design combination between our commercial system, and conventional microgreen systems. Utilizing both concepts allows 32 plants/herbs/spices and 70 square inches (0.5sqft) of microgreen grown within a 0.99 square-foot space. Grown using a coco and perlite mix with hydroponic drip system pump.
Perfect for kitchen countertops, side tables, outside area, hang them next to your hanging baskets, or anywhere you want. 100% waterproof - indoor or outdoor. Low power usage - hook up to a small solar panel setup. Highly productive - all compacted into a 13" x 13" x 18 system. Auto filtering - system automatically waters and filters the water as it passes through the system, which means much less cleaning. 5% of all sales go directly to feed the children, providing hope and resources for those without life's essentials. Built with commercial grade and food grade materials right here in florida, u. 100% organic - bio product. Whole system: 18 height x 13 width using 1 square-foot of area. Tower: 12 height x 4.5 diameter 32 plants. Micro-tray: 13 diameter x 2 1/4 depth with a grow area of 0.5 1 square-foot. Water tank: 1.5 gallon - 12.5" top width x 7" bottom width x 6.75 height. The full flower-tower system with coco mix medium, pump, lines and timer.
1/4lb of mixed microgreen seeds. 15 varieties of herb seeds: arugula, chives, cilantro, dill, italian parsley, italian basil, lemon balm, marjoram, mint, oregano, rosemary, sage, summer savory, tarragon, thyme.
Colors: black, white, pink, cherry red, yellow, metallic red, metallic purple, metallic orange, metallic cobalt blue, sky blue. This item is made of food grade components and organic medium, low powered pumps.