The Glass Pyramid prefabricated house, greenhouse or glamping tent.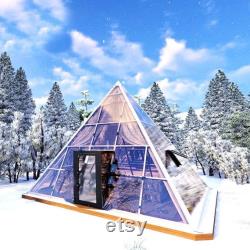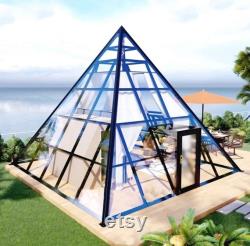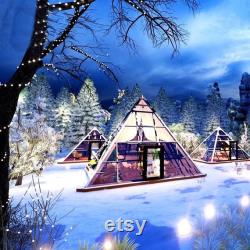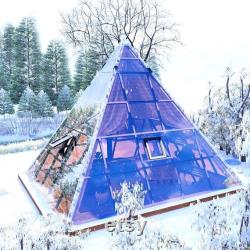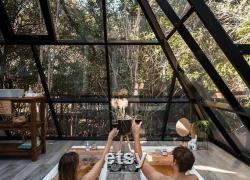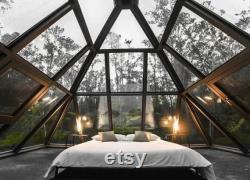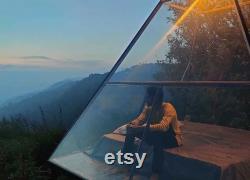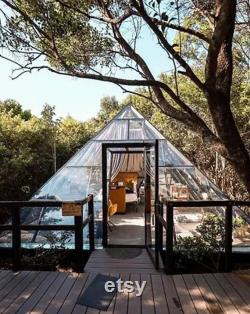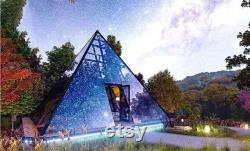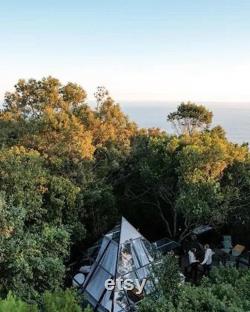 A pyramid is a sacred geometrical shape that collects energy from the universe and centers it down to us through the apex. Since ancient times, the four sloping sides of the pyramid have been found to attract powerful bio-energy forces that can help in healing. The egyptians viewed the pyramid as a spiritual symbol because it connects electromagnetic energy surrounding the earth with the stars and other planets. Our mirrored glass house is designed to blend with nature. Mirrored from the outside, clear from the inside. Width: 6.3m / 20 ft. Depth: 6.3m / 20ft. Height: 3.1m / 10.
All structure needed for assembling your empty glass cabin. (please see full detailed list of items below). Includes complimentary design services: consultation, licensed blueprints and 3d walkthrough of your design. Includes customization of materials, furnishings, flooring, ceiling, paneling, door type, door placement, and interior walls included. Foundation, installation, assembly, utility hook-ups to water, electric, adu permits if necessary, plumbing or internet.
Empty cabin materials: (standard model without customization). Heat treated ashwood flooring and ceiling. Polycarbonate panels with uv coating. Get 25% off all prefabs, cabins & products with code xariel at xarielariel. This item is made of aluminum.