Wooden Cold Frame Greenhouse Raised Kit, Portable Wood Greenhouse with Shelf for Garden Yard, Outdoor Indoor Use, (Natural)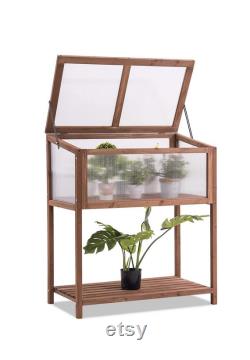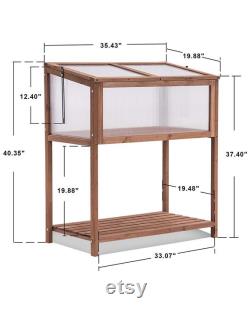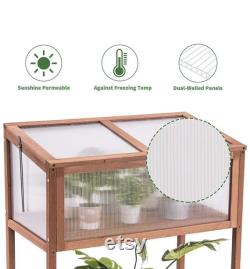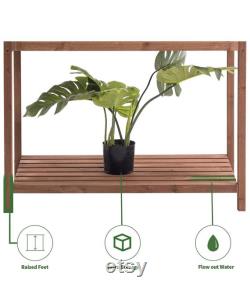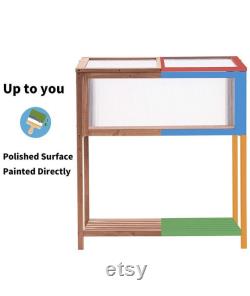 Protect plants and start your spring planting in our nicely cold frame greenhouse. Overall size: 35.4x19.5x41.3. Greenhouse box size: (35.2x19.48x11.8). Solid wood & easy assemble: this cold frame greenhouse is made of 100% solid fir wood, well engineer structure makes it sturdy and durable. With help of the simple frame design, it's easy to assemble the greenhouse within 30 minutes, all tools are included.
Dual-walled poly panels: the cold frame greenhouse is equipped with sturdy dual-walled poly panels from each side, which allows your plants to enjoy sunlight as well as protecting plants against freezing temps, also , this small greenhouse can meet your seeds germinating need indoor and keep your pet out. Controllable top ventilation: the top of this portable greenhouse can be fixed by tightening the screws on the box side, and the size of the vents can be controlled by holding the screws in different rods position, providing a healthy ventilation system to your plants in different weather.
Slated design shelf: there is a additional shelf with slat design on this cold frame greenhouse, providing extra storage space to your potting tools, your plants can also flow out excess water on the slated shelf before you put it in the greenhouse box. Wood feet can keep your cold frame away from the ground to extend the using term. Polished wood for easy stain: the polish and cutting workmanship on this cold frame is smoothly , allows painting and staining on it without any other process. We suggest stain this cold frame greenhouse per year for extending its using term.