Zome tent for dining or Greenhouse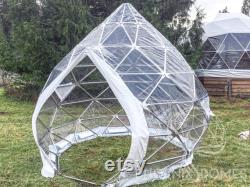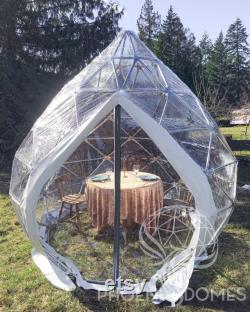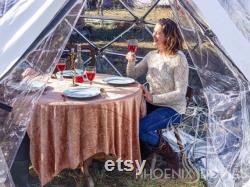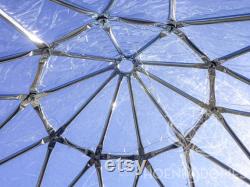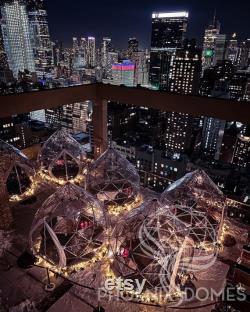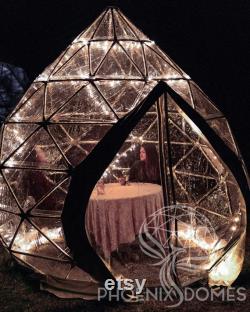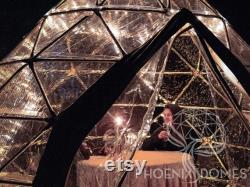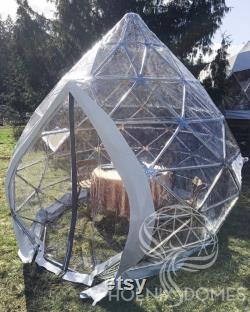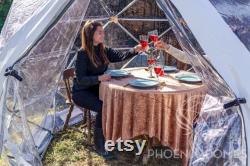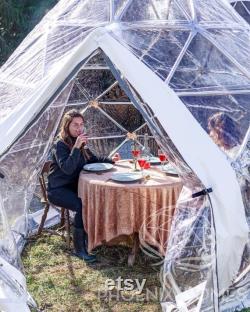 Craft one-of-a-kind experiences inside the unique geometry of a zome. What's a zome, you ask short for zonohedron, its geometry is based on a double helix, and the top view resembles a flower of life. This zome can be used as a small greenhouse for starts and propagation or a few tomato plants - or as a patio/ dining dome. Easy to heat with a single infrared or space heater, patio zomes are an ideal addition to hotel restaurant or backyard patios to allow for unique all-season dining experiences. Our 4m patio zomes can easily accommodate tables of up to 4 people. They're also incredibly strong -you can easily hang lighting, heaters, flower pots, or even hanging chairs in them.
Each row of a zome is parallel and builds to its characteristic central apex. Zomes are actually even easier to set up than domes due to their regular pattern, while being just as strong thanks to their triangular construction.
With 2-3 people, assembly takes roughly 2-3 hours, with a take-down time of about 1 hour. Folded and bound, the cover and struts take up incredibly little storage space when not in use.
Our resilient 650g/sqm clear pvc covers are 100% waterproof, flame retardant, and capable of thriving in temperatures from -45 to +70c. Steel frame zome withheavy-duty clear pvc cover. 2 triangle vents with roll-up flap and mosquito screen. Reinforced circular hoop doorway (note: this is a recent addition for increased structural integrity - see last photo for updated circular doorway). Cover tensioning system + mounting hardware.
Base diameter:10.6'/3.2m. Center height:12.25'/3.75m. The roof pitch of the zome is such that snow will slide off and not accumulate, so snow load is not really an issue here. We're including 4mgeodesic domesnow and wind load ratings here as approximates, as these will be very close in value to a zome of the same size. 4m light frame- 26mm/1 tubing, rated for 120 psf snow load and200 mph/320 kmh winds.
Patio zomes - forprivacy, for warmth, and for the longest patio season possible help guests social distance in style, while also creating a unique, cozy, and highly'instagrammable' ambiance. An incredible opportunity for creative brand visibility. It's been said that the energy of the zome has a calming effect if it has an even number of sides, and an activating effect with an odd number. Ours have an even number, and are thus ideal for relaxing dining or entertaining experiences.
This item is made of vinyl and pvc, steel.